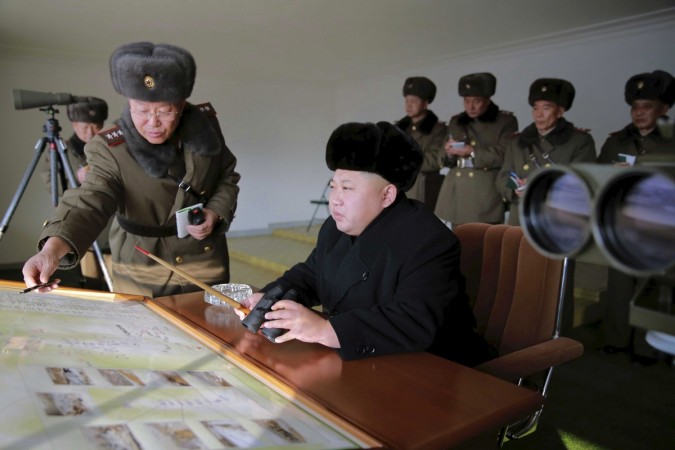 Update: 1:12 p.m.: Japan has reportedly threatened to shoot down North Korean missile aimed at Japanese territory, a day after Pyongyang notified the United Nations about its plan to launch a satellite.
Japan's Defence Minister Gen Nakatani on Wednesday issued instructions to deploy Aegis destroyers in the Sea of Japan and Patriot missile batteries on land, citing the "possibility that North Korea will launch a missile it calls a 'satellite' within coming days", The Guardian reports.
"Today the defence minister issued an order" to destroy a missile if it "is confirmed that it will fall on Japanese territory", the Japanese defence ministry said in a statement.
Original Story:
South Korea and Japan on Wednesday reportedly warned North Korea with severe consequences if it goes ahead with the plan to launch a rocket later in February this year. Seoul said that North Korea is planning to launch a long-range missile, not a satellite.
"North Korea's notice of the plan to launch a long-range missile, coming at a time when there is a discussion for Security Council sanctions on its fourth nuclear test, is a direct challenge to the international community," Reuters quoted the Blue House — the office of the president of the Republic of Korea — as saying.
"We strongly warn that the North will pay a severe price if it goes ahead with the long-range missile launch plan," it said.
Pyongyang on Tuesday told the United Nations' International Maritime Organisation and International Telecommunication Union about its plan to launch a satellite sometime between 8 and 25 February, according to Reuters.
North Korea notified the UN agencies about the launch of the satellite with a four-year functional duration, in a non-geostationary orbit, International Telecommunication Union said. North Korea has also notified the coordinates for the locations where the rocket boosters and the cover for the payload would drop.
"We have received information from DPRK regarding the launch of earth observation satellite 'Kwangmyongsong' between 8 and 25 February," a spokeswoman for the International Maritime Organisation told Reuters on Tuesday. North Korea is officially known as Democratic People's Republic of Korea (DPRK).
The move has been condemned by Japan as well. Japanese Prime Minister Shinzo Abe has called it a "serious provocation", according to AFP.
The South Korean government on Wednesday urged Pyongyang to not go ahead with the launch as it would violate UN resolutions and would be a "direct challenge" to the international community, AFP reported.
"North Korea has further escalated tensions on the Korean Peninsula with its notification of a long-range missile launch at a time when the United Nations is discussing punitive sanctions," Yonhap News Agency quoted South Korean Defence Minister Han Min-koo as saying.
Washington and Seoul will "strengthen capabilities to counter North Korea's nuclear and missile threats," he said.
North Korea is already under UN sanctions, and has announced the February launch even as the United Nations Security Council is considering further sanctions for its 6 January "hydrogen-bomb" test.
The UN had imposed sanctions on North Korea after it conducted three nuclear tests at the Punggye-ri site — one in October 2006, another in May 2009 and the last one in February 2013 — for violating its nuclear and missile proliferation sanctions.