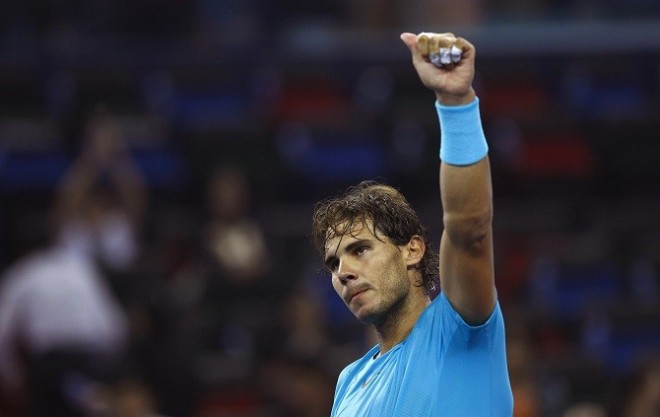 Rafael Nadal made a winning start to his Shanghai Masters sojourn with a comfortable 6-3, 6-2 result over Alexandr Dolgopolov.
Nadal is playing in his first tournament after displacing Novak Djokovic as the world number one and if the form that the Spaniard showed against Dolgopolov is anything to go by, then a final appearance, at the very least, looks like a foregone conclusion.
"The court is fast, faster than the previous years," said Nadal, who did not face s single break point against Dolgopolov. "I like the ball much better than last week. I think I played a good match. Win against Dolgopolov the way I did is because I did a lot of things well.
"In the beginning I couldn't do nothing. He was playing amazing, hitting every ball very hard, playing winners from every place. Positive thing is that I resisted well at the beginning and I converted the second chance I had on the breakpoint.
"The serve worked great. Something that didn't happen last week (in the China Open when he lost to Djokovic in the final). That's very important thing. I don't know, maybe the ball and the court help me little bit more here for the serve. Hopefully that's a real thing, is not a thing of one day. We'll see tomorrow (Thursday). I have another tough opponent in front."
That opponent will be Carlos Berlocq after the Argentine upset John Isner, who was desperate for a good showing in Shanghai to get to the ATP World Tour Finals in London.
Nadal is taking nothing for granted on Thursday and is expecting a tough fight from Berlocq.
"He's already won two matches," Nadal said of his upcoming opponent. To win against Isner, he should be playing great. If not, you cannot beat against a player like John in a fast surface like this one.
"I saw a little bit the statistics. He didn't lose many points on his serve. Won almost every point with his serve. Will be very focused and try to play a great match.
"He's a different kind of player than Dolgopolov. Is a player more from the baseline, more rhythm player. I going to try to play the way that I did -- playing aggressive, trying to take advantage with my serve, then when I have the chance to attack with my forehand, try to go for the shots.
"But we'll see. Every day is different."