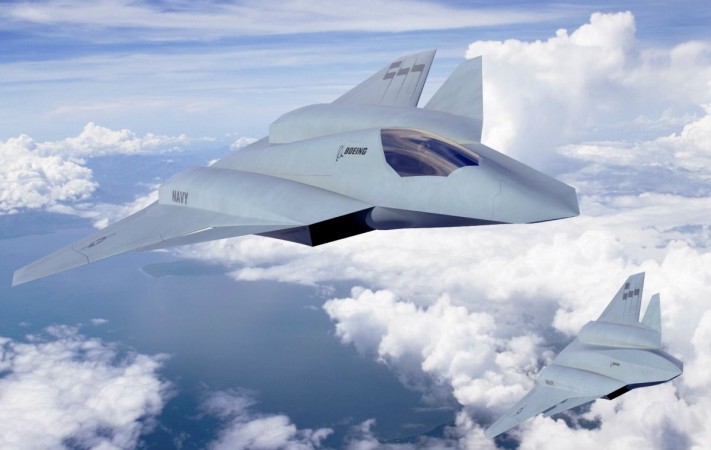 Boeing has released the new concept art for the US Air Force's next-generation fighter jet. Aviation Week, who had access to the artwork, referred to it as a "sleek, tail-less design featuring conformal engine inlets and what looks like a manned cockpit."
The report stated that the aircraft looked more like a fighter-bomber than a pure fighter. "The tail-less airframe, thin swept wings and conformal shaping suggest a stealthy, penetrating aircraft that may be able to fly supersonic. The silhouette of a pilot inside the cockpit indicates Boeing is banking on the Air Force sticking with at least an optionally manned platform for the future capability," it said.
Boeing's new concept will join the fray for the USAF's sixth-generation air superiority fighter. The air force has recently initiated an Air Force Scientific Advisory Board (AFSAB) study that will begin identifying key capabilities needed to fight in the battlefield of 2030.
According to Aviation Week, the Air Force's "Air Superiority 2030" initiative identified a hybrid PCA capability as key to ensuring air superiority in future denied battlespaces characterised by sophisticated air defense systems and counterair technologies. But so far, the air force has only described PCA in relatively broad terms.
The report added, "We do know that PCA will be a 'family-of-systems', and will likely include some kind of next-generation stealth fighter to operate alongside and eventually replace Lockheed Martin's F-22s and F-35s. It may also incorporate the new arsenal plane concept, where multiple sensor-shooter aircraft direct fire from an aerial bomb truck crammed with munitions."
Earlier in the year, Flight Global stated in a report that according to service officials, there's no "silver bullet" or "exquisite" next-generation fighter jet that will single-handedly evade and counter the types of surface-to-air, air-to-air, anti-satellite, electronic attack and cyber threats that are springing up around the world, particularly if going up against a nuclear-armed state like Russia or China.
Instead, the air force would proceed with parallel technology development efforts, like new propulsion systems, airframes, directed energy weapons and hypersonic missiles, to develop a "family of systems" – including longer-range, higher-payload platforms to launch volleys of weapons at targets from "standoff" distances and others that will swoop in for direct attacks.