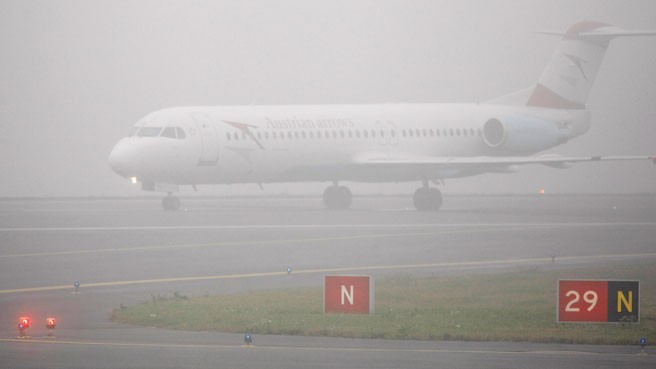 The blanket of dense fog on the national capital New Delhi continued to occlude flight and railway operations for a second day on Monday due to poor visibility.
According to CNN-IBN, at least 90 flights at the Indira Gandhi International Airport were delayed or cancelled as there was only one open runway at the terminal on Monday morning.
The airport experienced a complete shutdown at around 1 am, leading to suspension of flight operations, as Delhi was witnessing the season's worst fog in past four years with the visibility dropping to an almost nil, below the mandatory 50 metres.
Visibility remained below 100 meters till 3 am and affected hundreds of flights, resulting in a chaos at Terminal 3 of the airport.
As per the meteorological department of Delhi the visibility is likely to improve to 500 meters with shallow fog after 9 am on Monday morning. Even trains to and from the national capital have reportedly been delayed by more than 24 hours.
The met department predicts that visibility in the national capital is likely to reduce below 50 meters again from 1 pm onwards and experience dense fog after 4 pm.
Besides Delhi, poor visibility due to foggy conditions was reported in Jaipur, Lucknow, Bhubaneswar, Patna, Vizag and Guwahati that disrupted the flight operations.
Delhi experienced the second spell of thick fog on Sunday evening. The fog became denser after 9.30 pm slowing the road traffic with visibility less than 10 metres in some areas, reported NDTV.
With maximum visibility staying at less than 600 metres through Sunday, around 206 flights got delayed and with no relief expected till tomorrow, which those planning to travel may have to face difficulties. Nearly 150 domestic and international flights had been affected, causing inconvenience to passengers.
Meanwhile, Kashmir Valley received fresh snowfall, including in Gulmarg, Kokernag, Srinagar, Kupwara. Temperature dipped nine notches below normal in Srinagar at -2.0 degree Celsius.