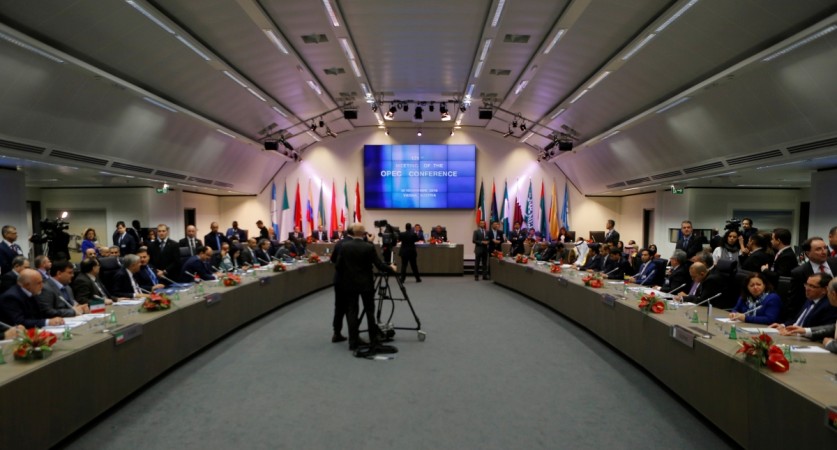 OPEC has agreed its first limit on oil output since 2008, sources in the producer group told Reuters, with Saudi Arabia accepting "a big hit" on its production and agreeing to arch-rival Iran freezing output at pre-sanctions levels.
Brent crude futures jumped 8 percent to more than $50 a barrel after Riyadh signaled it had finally reached a compromise with Iran after insisting in recent weeks that Tehran fully participate in any cut.
The source said the Organization of the Petroleum Exporting Countries had on Wednesday agreed on a proposal by member Algeria to reduce production by around 4.5%, or about 1.2 million barrels per day.
Saudi Arabia would contribute around 0.5 million bpd by reducing output to 10.06 million bpd, the source said, while Iran would freeze output at close to current levels of 3.797 million bpd and other members would also cut production.
The source added that OPEC had also suspended Indonesia from OPEC and hence the exact combined reduction was yet to be calculated. The meeting was still ongoing after around six hours of debate.
"OPEC has proved to the skeptics that it is not dead. The move will speed up market rebalancing and erosion of the global oil glut," said OPEC watcher Amrita Sen from Energy Aspects.
The deal promises to revive the tattered finances of countries from Venezuela to Libya and restore flagging confidence in the producer bloc that controls 40 percent of the world's oil. But the consequences will reverberate far beyond OPEC, giving a boost to U.S. shale drillers crippled by a two-year price rout and oil giants such as Royal Dutch Shell Plc, which have cut spending to the bone to weather the prolonged downturn, according to Bloomberg.
Morgan Stanley said Monday that an OPEC agreement could boost crude prices by $5 or more. While the deal is unlikely to be enough to wipe out the crude glut entirely -- OPEC's own estimates show it needs to pump just 31.9 million barrels a day from January to June to balance supply and demand -- it clears the way for participation by non-OPEC suppliers, chiefly Russia.
Russia, the biggest producer outside the bloc, has said if OPEC agrees on individual country quotas it's ready to participate, including possibly reducing its output, a person familiar with Russian thinking said earlier. That would mark a reversal of its previous position.