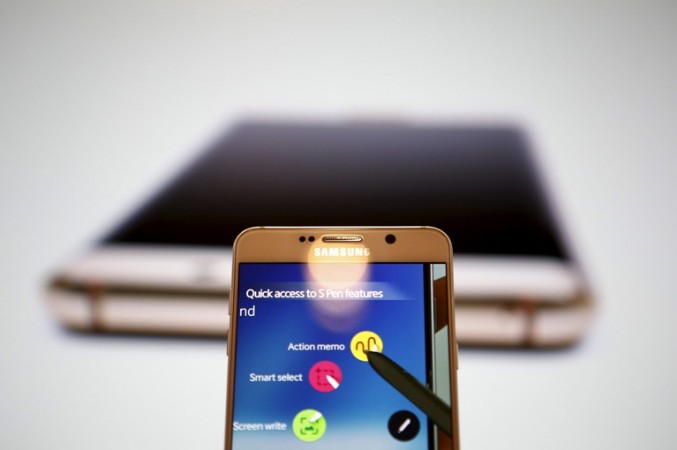 Samsung Galaxy S7 and Galaxy S7 Edge are expected to be launched on 21 February, just a day before the Mobile World Congress 2016 begins. Several reports have already outlined the possible specs of the upcoming flagships, and now a new leaked image offers a closer look at their designs.
Samsung, the largest smartphone-manufacturer in the world, confirmed the Galaxy Unpacked 2016 event via a Twitter post on Monday. While the South Korean tech giant hasn't confirmed any of the leaked details about the Galaxy S7 and S7 Edge, a new image shared by prominent mobile tipster Evan Blass (@evleaks) on Monday shows the company might retain the Galaxy S6's glass back design.
Blass' leaked image of the upcoming Galaxy S7 and S7 Edge shows the rear design of both smartphones. The corners are rounded, much like the current flagships. It is not clear from the image if the camera module is protruding, but earlier reports had hinted that Samsung would go for a flat design.
If we combine the fresh leaked image with an earlier one from @evleaks on Saturday, Samsung Galaxy S7 and S7 Edge won't have any major difference in appearance from their predecessors.
In the past few months, there have been several reports about the Galaxy S7 and S7 Edge. According to rumours, the Galaxy S7 will sport a 5.1-inch flat screen with QHD (2560x1440p) resolution, while the Galaxy S7 Edge will have a bigger 5.5-inch dual-curved display with the same resolution.
The new handsets will be powered by Samsung's latest Exynos 8890 chipset, while some variants in select markets will use Qualcomm's 2.2GHz Snapdragon 820 chipset. Both phones will have 4GB DDR4 RAM, 64GB storage, a 12MP camera with the lowest f/1.7 aperture, a 5MP front-snapper and a microSD card option, according to Venture Beat.
The batteries are also expected to witness a bump in size to 3,000mAh and 3,600mAh for the Galaxy S7 and Galaxy S7 Edge, respectively.
Until Samsung officially confirms the details of its upcoming flagships, be careful with what you believe. Watch this space for more updates.