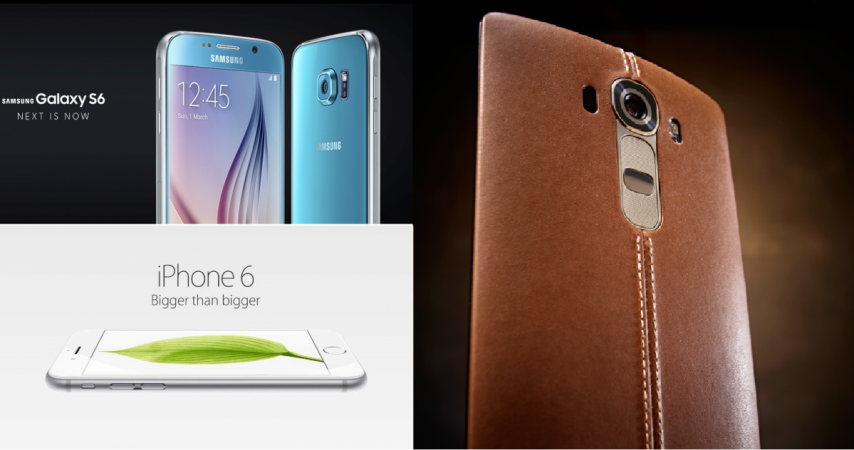 If you have been waiting to upgrade your smartphone with the worthiest handset available in the market, the choice is not getting any simpler. Major smartphone makers like Samsung, Apple and LG are placing their highest bets to win over consumers with their best models.
The latest entry in the flagship smartphone category, the LG G4, challenges the dominance of Samsung Galaxy S6 and Apple iPhone 6. Here's a comparison of the specs of all three players to see which one comes out as a true winner.
Display
LG G4 and Samsung Galaxy S6 are similar on the screen resolution front while the latter is comparatively smaller. Measuring at 5.5-inches diagonally, LG G4 packs 1440 x 2560 pixels with 534ppi and the Samsung Galaxy S6 has a 5.1-inch screen with higher pixel density at 557ppi but with similar Quad HD resolution. As for Apple, the iPhone 6 measures 4.7 inches diagonally with an odd 1334 x 750 pixels and 326ppi.
Processor
All three phones have opted for different processors. As usual, Apple iPhone 6 is powered by 64-bit A8 chip, while LG G4 and Samsung Galaxy S6 run on 1.8GHz 64-bit hexa-core Qualcomm Snapdragon 808 chipset with X10 LTE and Samsung's homegrown Exynos 7 series Quad 2.1GHz + Quad 1.5Ghz, Octacore SoC, respectively. With these powerful processors, all three phones are bound to deliver lag-free experience with slight difference. Samsung's Exynos chipset has surpassed rivals processors in benchmark results with competing chipsets, including Qualcomm's latest Snapdragon 810 SoC. So we can safely assume the Samsung Galaxy S6 offers the best processor.
RAM and Storage
LG has played it safe in the storage department by offering 32GB built-in space along with microSD card support for further expansion up to 128GB. As for Samsung and Apple flagships, customers will have to choose the handset depending on the storage capacity. Samsung Galaxy S6 comes in 32GB, 64GB and 128GB variants and the iPhone 6 offers 16GB as base model and 64GB and 128GB for those who need ample storage. Both phones lack microSD card slot for additional storage.
In terms of RAM, Apple's iPhone 6 packs the lowest capacity of 1GB while Samsung Galaxy S6 and LG G4 have spacious 3GB RAM.
Software
Both Samsung and LG build their smartphones on Google's Android platform while Apple uses its own iOS for iPhones. The iPhone 6 is powered by iOS 8 software, which is upgraded to later versions as and when available.
LG G4 has come up with a new human-centric UX 4.0 based on Android 5.0 Lollipop. The new interface offers several new features such as Quick Shot, Smart Notice, Event Pocket and more. The Samsung Galaxy S6 runs its own TouchWiz UI based on Android 5.0 Lollipop.
Camera
LG has really come a long way since the G3 smartphone and offers one of the top class camera sensors in the G4. Samsung is in close competition with the Galaxy S6 camera. The G4 packs a 16-megapixel rear-facing camera with dual-LED flash, F1.8 aperture lens to capture 80 percent more light and upgraded Optical Image Stabilization 2.0. Samsung Galaxy S6 also packs a similar 16MP rear sensor with flash and OIS but we can only find the difference in the quality after our hands on the devices.
Apple, however, stays away from the megapixel race and packs an 8MP rear-facing iSight camera with 1.5µ pixels. There are no complaints with the camera quality but the Galaxy S6 has taken a huge step ahead of its rival in the camera department.
LG G4 offers 8MP front facing camera while Samsung Galaxy S6 boasts a 5MP shooter. Apple packs 1.2MP front snapper in its iPhone 6.
It's debatable whether the LG G4 beats Samsung Galaxy S6 in the camera department but we will hold our verdict until we get a hands on experience.
Battery
LG has once again stepped on smartphone users' major concern, short battery life. By packing a 3,000mAh removable battery in the G4, LG beats Samsung and Apple. Comparatively, Samsung Galaxy S6 and iPhone 6 packs 2,550mAh and 1,810mAh battery units, respectively.