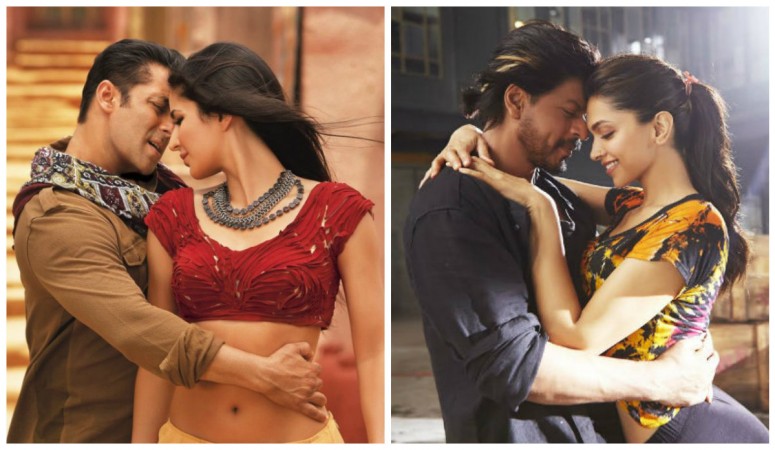 Salman Khan has emerged the most popular Bollywood male star of 2015, beating contemporaries like Akshay Kumar and Shah Rukh Khan. On the other hand, Katrina Kaif has become the most popular star of 2015 in the female category, followed by Deepika Padukone and Kareena Kapoor Khan.
Ormax Media conducted a survey around the year across 44 cities, asking movie-goers their favourite Bollywood male and female stars. Any star named by cine-goers as one of their two most favourite stars (male and female category separately) have received a point, and these have been tallied to determine who topped the list.
According to the survey report, Salman Khan was the most popular male star of the year, with 48% of respondents voting for the "Bajrangi Bhaijaan" actor. Akshay Kumar secured the second position with 24% and Shah Rukh Khan was the third in the list with 22% votes.
Others in the list of top 15 most popular male stars of 2015 are Aamir Khan (20%), Hrithik Roshan (17%), Amitabh Bachchan (14%), Ranbir Kapoor (11%), Ajay Devgn (10%), Shahid Kapoor (9%), Varun Dhawan and Sunny Deol (both 4%), Ranveer Singh, John Abraham, Emraan Hashmi and Arjun Kapoor (all 2%).
As for the most popular stars of 2015 in female category, Katrina Kaif topped the list with a score of 37%, followed by Deepika Padukone (33%) and Kareena Kapoor Khan (17%). The others in the list of top 15 actresses are Priyanka Chopra (13%), Aishwarya Rai Bachchan (12%), Madhuri Dixit and Alia Bhatt (10%), Kajol (8%), Sonakshi Sinha (7%), Anushka Sharma (6%), Jacqueline Fernandez and Shraddha Kapoor (5%), Kangana Ranaut (4%), Rani Mukerji (3%) and Parineeti Chopra (2%).
Ormax also conducted a different survey on the fastest growing male stars of the year, making a comparison between 2014 and 2015. Nawazuddin Siddiqui topped the category, followed by Varun Dhawan and Irrfan Khan. In the female category, Kriti Sanon was in top position, while Jacqueline Fernandez and Kangana Ranaut came in second and third, respectively.