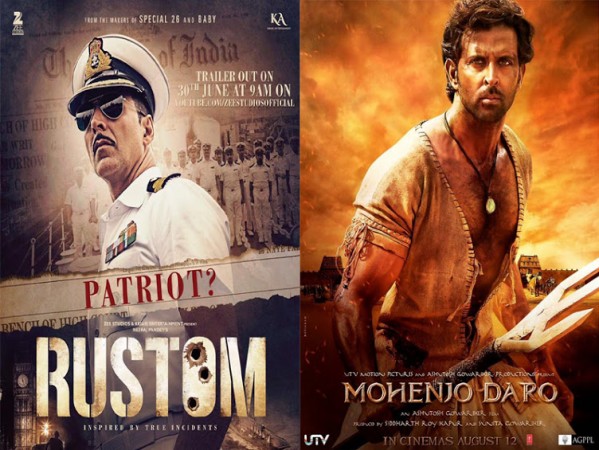 Like at the Indian box office, Akshay Kumar's "Rustom" is having a much stronger hold over the overseas market than Hrithik Roshan-starrer "Mohenjo Daro." "Rustom" has dominated the overseas box office on the second day as well, registering a collection almost double of "Mohenjo Daro."
"Rustom" had made a total overseas collection of Rs. 8.30 crore on its opening day and "Mohenjo Daro" ended its first day overseas business at Rs. 6.82 crore. And now, the Tinu Suresh Desai-directorial has continued a decent run at the Australian and New Zealand box office on day 2 also.
"Rustom" made a collection of Rs. 38.98 lakh on Saturday in Australia from 30 screens and Rs. 21.57 lakh in New Zealand from 18 screens. On the other side, "Mohenjo Daro" earned Rs. 22.36 lakh from 24 screens in Australia and Rs. 6.66 lakh from 10 screens in New Zealand on the second day.
Thus, the total 2-day overseas collection of "Rustom" from Australian and New Zealand market stands at Rs. 72.29 lakh and Rs. 38.66 lakh respectively. "Rustom" also has been performing brilliantly at the UAE box office. The film has collected Rs. 5.65 crore at UAE box office in just two days.
"Mohenjo Daro" has taken its total Australia and New Zealand collection to Rs. 40.92 lakh and Rs. 12.39 lakh on the second day.
Co-produced by Neeraj Pandey, "Rustom" has been enjoying positive word of mouth since its release, and so, the distributors of the film increased its screen count both in the Indian and overseas markets.
On the other side, Ashutosh Gowariker-directorial, "Mohenjo Daro" could not impress the critics and is finding it hard to attract as much audience as "Rustom" has been attracting. The Hrithik-starrer is touted to be one of the most expensive Bollywood movies ever made and the current trends of box office collection are likely to put the makers of the film in a worrisome situation.