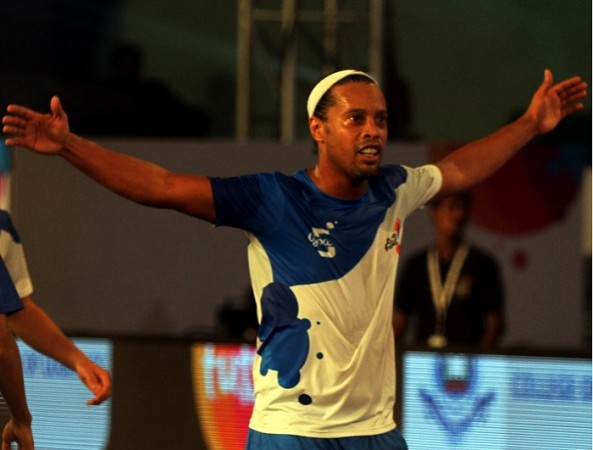 Brazilian football legend Ronaldinho will not seen donning the jersey for Goa anymore in the first season of Premier League. He has flown back to Brazil, and will not be replaced by another legend in Cafu.
Ronaldinho has been roped in as the official ambassador of the 2016 Paralympics Games, which is scheduled to start in September. Therefore, Ronaldinho had to leave for Brazil.
The Brazilian left the football fans in India, especially Goa, where the second leg of Premier Futsal will take place, disappointed.
The decision came just a day after he scored five goals in one match for Goa against Bengaluru.
However, Ronaldinho has promised to be back in India for the second edition of Premier Futsal next year. With Ronaldinho's departure, the Premier Futsal league lost a lot of gloss midway through the season.
"It is unfortunate that I have to leave for my home country Brazil as my country's commitment comes first. The para-Olympics committee has honoured me to be their ambassador, which requires me to be in Brazil. I was looking forward towards being in Goa, but I learnt only yesterday of this development. I am delighted to spend these days in your beautiful country and promote the game i grew up playing," Ronaldinho was quoted as saying by PTI.
"But I promise to be back for season 2 of Premier Futsal, much stronger. I am leaving you in great hands, Cafu, will replace me as your marquee palyer. He is a very dear friend and is a top quality player and I am sure he will light the league up."