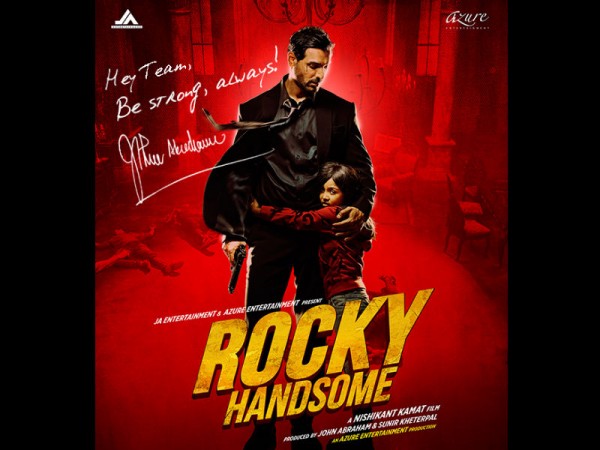 Makers of the movie "Rocky Handsome", starring John Abraham, have revealed the film's villain -- and it is none other than the director Nishikant Kamat himself. Trade analyst Taran Adarsh shared a photo on Twitter, revealing the look of Nishikant as the film's "bad man" -- Kevin Pereira.
The director has donned a bald look in "Rocky Handsome" and looks like he is ready to deliver a power-pact performance. Nishikant said that he was not the first choice to play the film's villain, but later agreed to when the person who was supposed to portray the role declined to do so.
"A friend of mine was supposed to play the role but it's a strong character and he developed cold feet, refusing to play it. We had already locked dates from other actors and couldn't have wasted them. I shave off my head after a film's release, which I did after finishing my last directorial, 'Lai Bhaari'. It's got nothing to do with religion or superstition. Fortunately, Kevin Pereira was required to be bald, so it worked out in this case," Times of India quoted Nishikant as saying.
There are some other directors also who wore the shoes of baddies like Karan Johar in "Bombay Velvet" and Tigmanshu Dhulia in "Gangs of Wasseypur". Now, as Nishikant is ready to do it for "Rocky Handsome", the director said that he enjoys facing camera but he might not do it again. "I enjoy acting and am confident in front of the camera but doing it in your own film can be scary. Also, it's not easy to be a director as well as act at the same time. I might not do it again," he added.
The movie "Rocky Handsome" also features Shruti Haasan along with John. It is inspired from a Korean movie titled "The Man from Nowhere". The action thriller is set to release on 25 March.