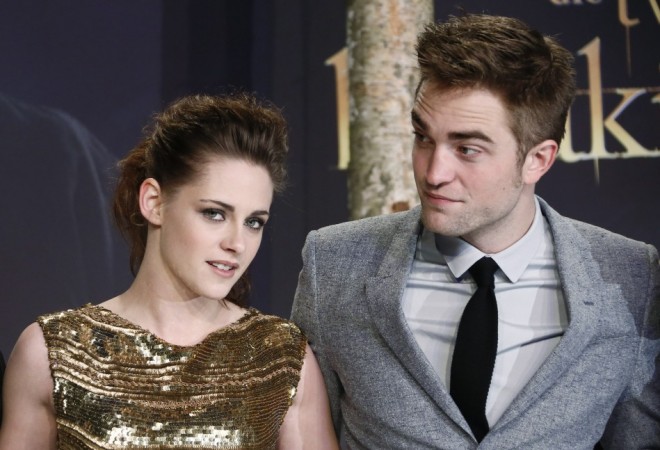 Rumors of a reunion between Robert Pattinson and Kristen Stewart have started doing the rounds after the two were spotted together on various occasions.
Despite their differences, it seems like Robert Pattinson and Kristen Stewart can't stay away from each other. Post their breakup in May, owing to Stewart's cheating scandal with Rupert Sanders, Pattinson has been linked with many women but it seems like his heart has always been with the "Twilight" actress.
Even after their breakup, the two maintained that both of them were very special to each other and now it seems like they're back to rekindling their romance. Though nothing has been officially announced, tabloids are sure that the couple is back together after being spotted together on various occasions.
On October 30, Stewart reportedly spent four hours at Pattinson's house and if rumors are to be believed, it wasn't just to see her dogs. After four hours, Stewart was spotted leaving the house in her pickup truck with Pattinson following close behind. On noticing photographers following them, Pattinson made a u-turn and returned to his pad. A clearly upset Stewart showed the photographers her middle finger before driving away.
Three days later, on November 3, the couple was spotted together again on Dia de los Muertos at Hollywood Forever Cemetery!
"Rob and Kristen went to check out the scene at Hollywood Forever Cemetery on Saturday night, Nov. 2," a source told Hollywood Life. "There was a huge celebration for Dia de los Muertos with tons of costumes and bands. They just mixed in with the crowd and acted like a normal couple just hanging out."
The most recent report suggests the two checked into a hotel in Palm Springs, California, for a few nights in order to spend some quality time together.
''They snuck away to one of their favourite hide-outs for a couple of nights. Both left their houses in LA under cover of darkness and Rob brought their two dogs as well. They're not back together yet but they desperately miss each other," a source told The Sun newspaper. ''Kristen still loves him and the ball is in his court. She drives him crazy but at the same time he can't seem to break things off.''
Recently, Pattinson was linked with Sean Penn's daughter Dylan Penn and is also said to have enjoyed a brief romance with Riley Keough earlier this year. However, a source confirmed that things between Penn and the actor were over.
''Rob and Dylan are over. When push came to shove they didn't really have much chemistry," the source said. ''Rob's been on a couple of dates since but he misses the comfort of being with Kristen who's known him since before he was a big star.''