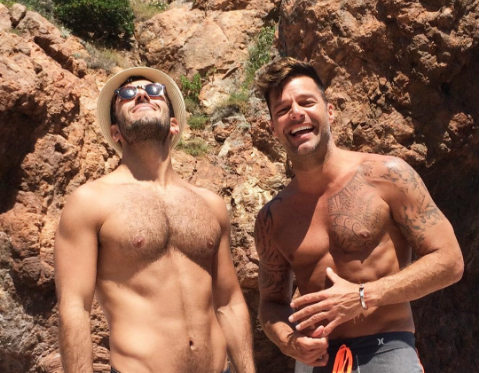 Ricky Martin announced on The Ellen Degeneres show that he is engaged to his partner Jwan Yosef. During an appearance on the hit TV chat show Martin announced that he proposed to his boyfriend of more than a year and shared how the engagement took place.
Martin said he was "nervous" when he proposed. "I got on my knees and I took out the little metal box. I just had it in a little velvet pouch and instead of saying, 'Will you marry me?' I said, 'I got you something!' Bad," the singer said.
"Then he was like, 'Yes.' I said, 'I want to spend my life with you,' and he was like, 'What is the question?' 'Would you marry me?' That's it."
He described the proposal as "very beautiful," even if it took 30 minutes for him to realize Yosef said "yes."
"I'm so happy for you," DeGeneres told Martin. "You deserve that."
According to Billboard, DeGeneres asked the singer: "Where does he live? And how long have you know him? And how did you meet?"
Martin replied: "He's a conceptual artist and I'm a collector so I started looking for art and I saw his art and I went crazy...and then I contacted him," he told Ellen.
"And then you collected him," DeGeneres joked.
Martin's engagement wasn't the only major news of the day. The singer also announced his new residency in Las Vegas' Park Theater at Monte Carlo, joining past musicians Mariah Carey, Celine Dion and more recently the Backstreet Boys. "I'm really happy," he told the crowd. "You're all invited, did I just say that?"
Martin, who is the dad of 8-year-old twin sons Mateo and Valentino, is also pleased that all the men in his life get along so well.
"They love each other. It's been perfect. It's been really special," he told DeGeneres.