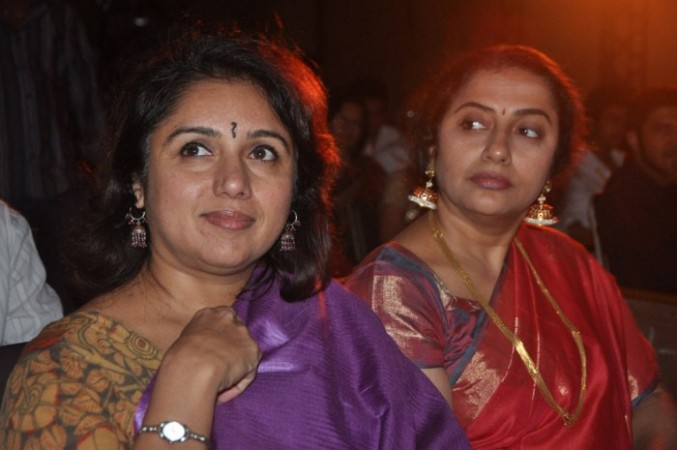 Veteran actor-filmmaker Revathy has been roped in to direct the bilingual remake of hit Bollywood film "Queen". Actress Suhasini Mani Ratnam will write dialogues for both the languages.
Vikas Bahl's 2013 film "Queen" told the story of a young Punjabi girl who embarked on her honeymoon to Paris alone after her fiancé called off their wedding. The Kangana Ranaut-starrer was a big box office success. It was critically acclaimed and also won several awards.
A lot has been spoken and written on the remake of "Queen" in Telugu and Tamil. Some directors, producers and actors were linked to it, but nothing came of them. However, what we hear now seems to be true. The buzz in the industry is the bilingual project is in the pipeline.
Filmmaker Thiagarajan has reportedly bought the rights of "Queen" and has planned to produce both the Telugu and Tamil versions. He has roped in Revathy and Suhasini Mani Ratnam for the films. "Revathy has been roped in to direct the remake. While the leads are yet to be finalised, the film will have dialogues in both languages by actress Suhasini Mani Ratnam," a source told IANS.
The bilingual film is currently in pre-production, and will go on the floors later this year. "Suhasini has finished working on the first half of the film. She'll spend next couple of months finishing work on the second half. By October or November, the film will most likely go to the sets," said the source.
Both Revathy and Suhasini, wife of filmmaker Mani Ratnam, are popular South Indian actresses. They have featured in hundreds movies in Telugu, Tamil, Malayalam and Kannada. They have also directed a few films. Suhasini has also worked as dialogue writer and camera assistant in some movies.