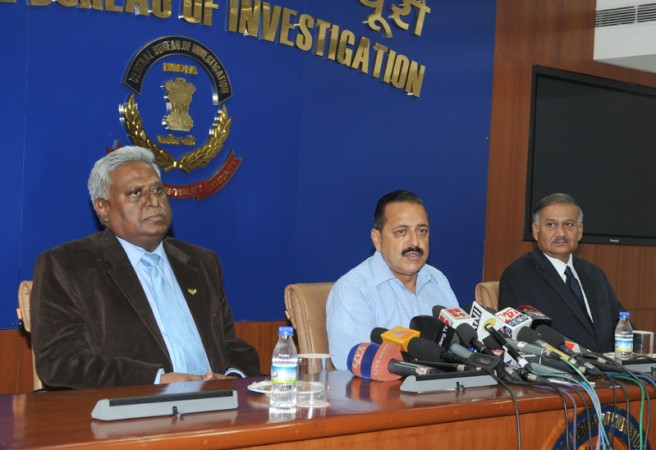 Indian Police Service (IPS) officer Anil Kumar Sinha was appointed as the new Central Bureau of Investigation (CBI) Director on Tuesday night, hours after CBI officers bid farewell to former chief of bureau Ranjit Sinha.
A Bihar-cadre 1979-batch IPS officer, Anil was a special director in the CBI and has been appointed as the new chief of the bureau for a term of two years.
The selection panel comprising Prime Minister Narendra Modi, Leader of Opposition (Congress) in the Lok Sabha Mallikarjun Kharge and Chief Justice of India H L Dattu met at 7 Race Course Road on Tuesday evening to hand over charge of CBI to Anil.
"The Appointments Committee of the Cabinet has approved the appointment of Shri Anil Kumar Sinha, IPS (BH; 1979) as Director, CBI, for a period of two years from the date of assumption of charge of the post," The Indian Express cited a statement issued by the Department of Personnel and Training.
A brief profile of Anil Kumar Sinha
A Psychology post-graduate and M.Phil in Strategic Studies, Anil has been awarded for his service in police, including Police Medal for Meritorious Service in 2000 and the President's Police Medal for Distinguished Service in 2006.
Ahead of taking charge as the CBI Chief, he served as CBI Special Director from May 2013. Before entering the bureau, he held profiles of Additional Secretary, Central Vigilance Commission in New Delhi.
He has also served for Bihar's Vigilance Investigation Bureau as Additional DG and was the Additional Director General of Police, Law & Order before. He has also served the vigilance and anti-corruption, administration, special branch and other divisions in Bihar.
Anil was also the DIG and IS in the Special Protection Group. During his service in the police force, Anil has investigated several sensitive cases, including a large number of disproportionate assets cases against public servants.
Nobody wants to leave the organisation on such a controversial note: Ranjit Sinha
Anil has succeeded Ranjit Sinha, who retired on Tuesday after serving a two-year term as the CBI director. Unlike many other CBI directors, Ranjit Sinha had to leave the bureau with a tarnished reputation due to his alleged connection with 2G Spectrum accused.
At the farewell function organised by his colleagues, Ranjit said all the decisions he took as the CBI chief were in the interest of the bureau as "nobody wants to leave the organisation on such a controversial note," Daily News & Analysis reported.
"... But time will tell that I took decisions in the interest of the organisation," he told his fellow officers.
He also sarcastically thanked the media for keeping him "in headlines for days and days together" and forming a public perception about him.
"I thank media for giving very wide coverage and for creating a public perception about me...Right or wrong, that time will judge me," he said.
"I had forgotten that I have done some work also. In fact I have only seen my criticism in last few weeks in media that I forgot that I have done other work as well in 40 years of my career."
Ranjit, also from Bihar-cadre 1974-batch, took charge as CBI director in December 2012.
He has been rapped not only by the media and public, but also by the Supreme Court, which asked him to step down from 2G scam investigation after reviewing petitions filed by an NGO that claimed Ranjit met 2G accused representatives at his official residence.