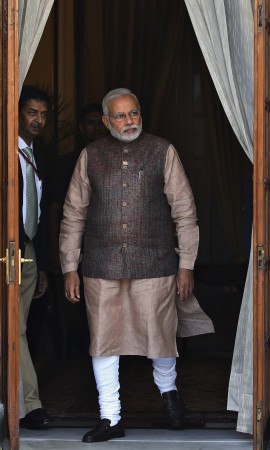 The woman, who was allegedly raped by newly-appointed Union Minister of State for Chemicals and Fertilisers Nihal Chand Meghwal three years ago, has put pressure on Prime Minster Narendra Modi to fire the Rajasthan minster from his government.
She also said she would seek a personal meeting with Modi on the issue.
The survivor lashed out against the minister in a press conference in his constituency of Sriganganagar on Wednesday, accusing him of threatening her and of trying to silence her by offering her a job instead.
"They have tried to offer money and a job to silence me. I request the police to give me protection and the opportunity to meet PM Narendra Modi so I can give him my side of the story," Times of India quoted her.
"We all know that Narendra Modi is a good person and highlights women rights. I don't think a person like Meghwal should be allowed to continue as a minister," she added.
The case dates back to 2011 when the survivor's husband had registered an FIR against Meghwal and several others at Vaishali Nagar Police Station in Jaipur, according to the Economic Times .
While the following police investigation had found the minister not guilty in 2012, the survivor filed a review petition in 2013, and last Thursday, a district court in Jaipur summoned Meghwal and the other 17 ministers charged in the case, to be present in the court by 20 August.
The rape survivor is said to have called for a press conference to clarify on a news channel's sting operation that had allegedly shown her freeing Meghwal of allegations of rape.
The Congress had earlier pressed the BJP government to sack the minister over the allegations, and even the National Commission for Women is set to take up the cause.
"This is really unacceptable. Even when a minister commits a heinous crime like rape, the punishment meted out to him should be the same as that for a commoner," NCW Chairperson Mamta Sharma was quoted as saying by IBN Live on the matter.