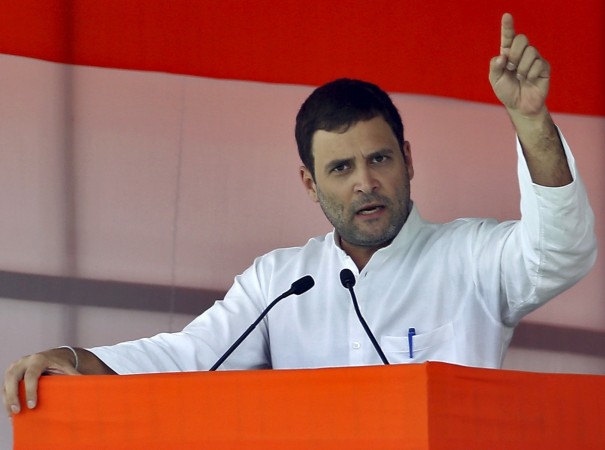 Congress vice-president Rahul Gandhi took to Twitter to thank 'people of Gujarat' after his party put up an impressive show in the civic elections, even winning seats in the Bharatiya Janata Party's bastions.
The Congress won 22 of the 31 district panchayats and also grabbed more seats than the BJP in the 230 taluka panchayats that had gone to polls.
The BJP, however, won all six municipal corporations and a majority of the municipalities.
But, the Congress party's performance is significant given that it was all but ousted from the state in the last civic elections in 2010.
One of the big wins for Congress came in the district panchayat election in Mehsana, which is the home district of PM Narendra Modi as well as of Gujarat CM Anandiben Patel.
Rahul Gandhi hailed Gujarat Congress workers on Thursday, a day after the civic poll results were declared.
Thank you to the people of Gujarat for their support(1/2)

— Office of RG (@OfficeOfRG) December 3, 2015
Congratulations @gujcongress leaders and all the party workers &supporters who worked hard and won the confidence of the people! (2/2)

— Office of RG (@OfficeOfRG) December 3, 2015
Ahmed Patel, personal secretary to Congress president Sonia Gandhi, said on Twitter that the results showed the BJP government was 'on its way out'.
My sincere gratitude to the people of Gujarat.These results indicate the BJP Govt is on its way out in Gujarat #GujaratResults 1/4

— Ahmed Patel (@ahmedpatel) December 2, 2015
While some BJP workers blamed the recent Patidar protests in the state for the party's poor performance in rural areas, BJP leaders, including the Gujarat Chief Minister, also took to Twitter to hail the victory in the urban belts.
I thank citizens for undeterred trust in @BJP_Gujarat. The BJP will continue serving ppl of Gujarat with utmost dedication & determination.

— Anandiben Patel (@anandibenpatel) December 2, 2015