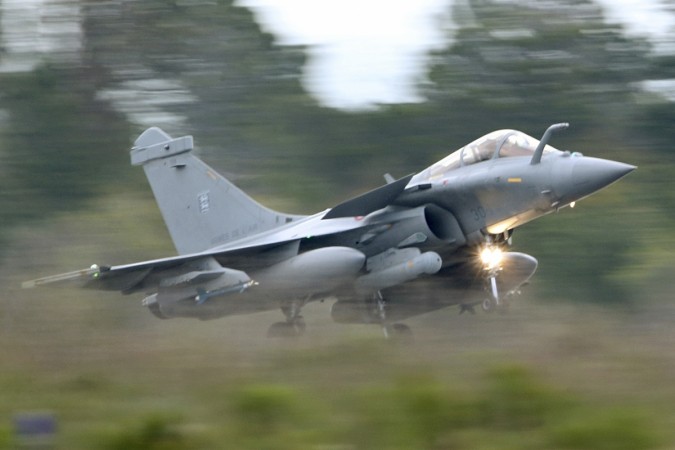 New details regarding the supply of 36 Rafale fighter jets from France to India in a government-to-government deal have surfaced. According to a report by the Indian Express, the French government is awaiting a response from the Indian side following a letter from Jean-Yves Le Drian, the French defence minister, to his Indian counterpart Manohar Parrikar on April 1.
The letter apparently contained the "best offer" for from France over the supply of the fighter jets, for which a deal was agreed upon between Prime Minister Narendra Modi and French President Francois Hollande in April 2015.
The new offer from the French government is reported to be around €7.8 billion after India asked for a 30 percent discount following the initial offer of €10.5 billion.
Before this letter was sent, the French side rejected the request from the Indian government for a sovereign guarantee or a bank guarantee for the deal and instead offered to provide Indians with a "comfort letter" from the French prime minister.
However, objections were raised by the Indian law ministry over the French side's refusal to provide the bank guarantees. But since the negotiations are ongoing, the government has been unable to comment on the issue, the report noted.
The report also highlighted that there was a difference between the two deals, the original offer had the assurance of ten-year product support period for the aircraft and was later brought down to five years.
Moreover, this new offer reportedly does not include the cost of setting up of the infrastructure needed for the two airbases in India that are expected to base two (one will be in the east and one in the north) Rafale squadrons.
The Indian configuration is different from the French Air Force, as the Indian Air Force wants options for Israeli helmet-mounted camera and a third-party weapons system. The recent fighter deals by the French with Qatar and Egypt are in line with the requirements of the Indian Air Force.
The report also noted that the fighter jet deal may be delayed if the Indian side does not manage to clinch the deal before the tenure of French Ambassador Francois Richier, who is engaged in these negotiations, ends in June. Additionally, the French government will go for presidential elections next year.
The IAF has been operating at its lowest combat strength, down to 33 squadrons from the mandated 42 squadrons. The government needs to act quickly to fill the gap since after the execution of the deal, the first Rafale aircraft is expected to reach in 36 months and the last one in seven years to India.