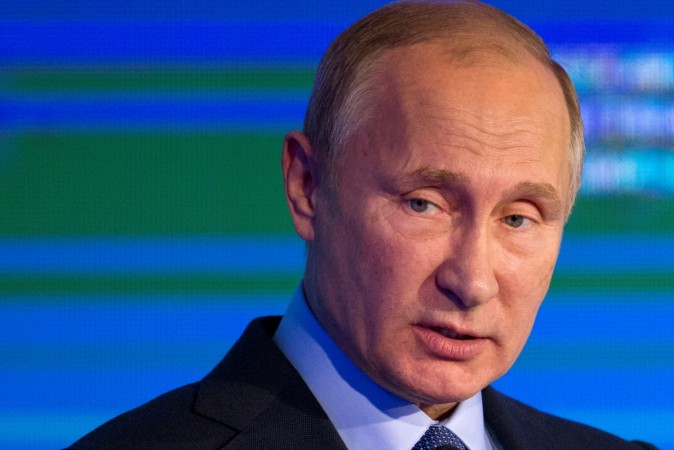 Russia is "not seeking conflict with anyone", President Vladimir Putin has said in his annual Kremlin speech to parliament and the nation.
"Unlike some foreign colleagues who see Russia as the enemy, we do not seek - and never sought - enemies. We need friends," he said.
But "we will not permit harm to our interests", he added.
He said Russia was ready to work with the new US administration to fight terrorism.
Putin has previously said he hopes for better relations with the US once President-elect Donald Trump takes office.
He praised the courage of Russian military personnel fighting rebel groups in Syria, in support of President Bashar al-Assad - and drew applause in the ornate Kremlin hall.
"Of course I'm counting on joint efforts with the US in fighting a real - not invented - threat, that is, international terrorism," he said.
He also warned that any attempt to "break the strategic parity" could be globally catastrophic - an apparent reference to the Russian-US nuclear balance.
According to the Washington Post, Putin read in a level tone from a prepared text for the address, which lasted about 70 minutes and was interrupted by modest applause 10 times. Most of the message was aimed at domestic issues.
"The people have united — and we see this, and we have to say thank you to our citizens — around patriotic values, not because everyone is content and are happy about everything," Putin said. "The course of developing the political system, democratic institutions, increasing competition is absolutely correct, and we are without a doubt going to continue it."
Opposition parties have been pushed to the sidelines in Russia, and October parliamentary elections returned a supermajority for Putin's United Russia party, amid low turnout that analysts and surveys have attributed to a loss of faith in Putin's system.
"We've proven that we live in a healthy society that is sure of its just requirements, where immunity from populism and demagoguery is being strengthened, and where the meaning of mutual support, consolidation and unity is valued," Putin said.
The Russian leader said unity had helped stave off "coups and in the end, anarchy"— a veiled reference to the "color" revolutions of other post-Soviet states like Ukraine, where Russia is fighting a proxy war in the east after annexing the Crimea peninsula.
Putin also made a reference to the refugee crisis in Europe and the chaotic election campaign in the United States.
"It's troubling that in the world, even in the seemingly most well-off countries and stable regions, there are more schisms and national, religious, political and social crises," the Russian leader said.
"We know well the consequences of such so-called great upheavals," Putin said, noting the 100th anniversary of the 1917 Bolshevik Revolution next year.