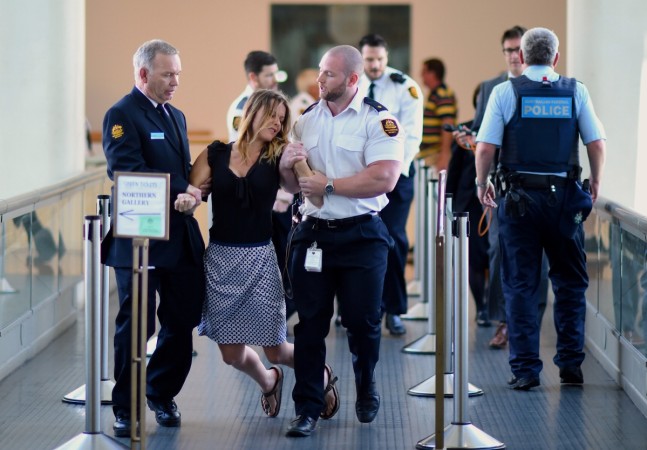 A large protest erupted inside the House of Representatives on Wednesday afternoon, causing question time to be suspended and prompting recollections of the notorious 1996 union protest that turned violent and breached the front doors of Parliament House.
There will be an immediate investigation into the disruption - described as "extraordinary" by Speaker Tony Smith - in which about 25 protesters chanted "close the camps" and other messages at assembled MPs, accusing the Coalition and Labor of being world leaders in cruelty because of Australia's treatment of asylum seekers, the Sydney Morning Herald reported.
Located in the public viewing gallery, the group of activists glued their hands to handrails and linked arms, resisting the outnumbered Parliament House security guards' attempts to remove them.
In a rare move, Speaker Tony Smith quickly suspended question time. Most Coalition MPs left immediately while Labor and the crossbenchers remained. Proceedings did not resume for 40 minutes.
Their cries were clear: "This is a state of emergency"; "You shame us on an international stage"; "You have failed every single person seeking asylum"; "Your policies are killing innocent people"; "Your policies are separating families".
According to Adelaide Now protesters continued chanting in the chamber after security removed them from the public gallery.
It took hand gel and about 30 minutes to remove six of the protesters firmly glued to their seats.
Security was forced to cuff one of the protesters in one of Parliament House's walkways after he refused to leave.
Other guards were forced to almost physically carry out protesters.
The same group disrupted a business speech by Malcolm Turnbull in Melbourne in August.
At that time a protester holding a sign reading "FFS close the bloody camps" made it onto the stage next to Turnbull.
"You ain't getting rid of us that easily," tweeted one member, referring to the glue.
Turnbull returned to the chamber once the unglued protesters had left.
Speaker Tony Smith resumed Question Time 40 minutes later after the last protester had been peeled off the rail.
"Obviously the action I took in suspending sitting was a last resort as members would know and witnessed, I wondered whether we would plough on in the extraordinary circumstances and I made a judgment that we could not," Smith said.
"Our purpose here is to conduct the business of the House and for the period of time we have been suspended, it's very clear we were unable to do that and the dignity of the House would have been severely compromised had we continued. I just that to members and I think we can resume."
Both major parties condemned the interruption.
According to ABC, there are calls to surround the building in fencing, stopping people from walking up and rolling down the iconic green lawns that grow up the sloping roof of the People's House.
Protests, albeit on a much larger and aggressive scale, back in 1996 forced the installation of bollards at the front of the building and forecourt, the network reported.
In more recent times, seemingly arbitrary restrictions have been placed on clothing in Parliament.
Former prime minister Tony Abbott was forced to intervene to lift a ban on women who cover their facesfrom sitting in Parliament's main public galleries.
Last year, a journalist was told to remove his T-shirt because it displayed a newspaper headline that was "deemed offensive".