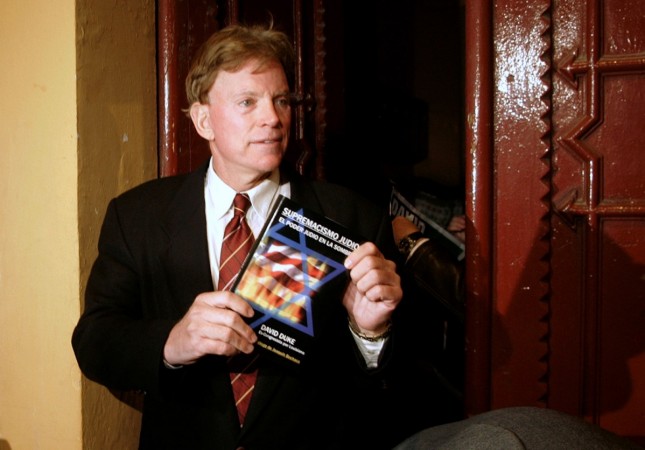 Former Ku Klux Klan wizard David Duke's presence dominated the final televised debate in the race for Lousiana's Senate race in New Orleans on Thursday as city police were called in to block more than 50 protesters from entering the auditorium at Dillard University — a historically black college, USA Today reported.
"No Duke. No K-K-K, no fascist USA," they chanted, along with "Let us in! Let us in!," when they were denied entry.
As the debate began inside, protesters began to push through the glass door of the auditorium. Police used pepper spray on them and some of the protesters directed pepper spray at the police, but no arrests were reported.
"We're standing outside while [Duke] is inside under the protection of your [university] president," said Malcolm Suber, one of the organisers of a group advocating for the removal of Civil War statues in New Orleans. "Your administration let the white devil on your campus."
Dillard President Walter Kimbrough said in an interview earlier in the day the university wasn't in the business of suppressing free speech, "even when we don't agree with it."
Duke is in a crowded field to replace Republican Senator David Vitter, and earned enough support in the polls to make the cut for this final debate, hosted by Raycom Media at Dillard University, a historically black college in New Orleans, NPR reported.
Dillard officials say they didn't know who would be participating when they agreed to rent the hall. The administration did ask students not to attend. Seconds before the debate was set to start, a few students pushed in a back door but they were pepper-sprayed by police and forced back out.
From the debate stage, Duke acknowledged the protests and blamed it on the Black Lives Matter "radicals."
"It's time we stand up now," he said. "We're getting outnumbered and outvoted in our own nation."
The controversial Duke has not had a major presence in the race, yet he still pulled in enough support – just over 5 percent in a poll — to be one of the six candidates on the final debate stage.