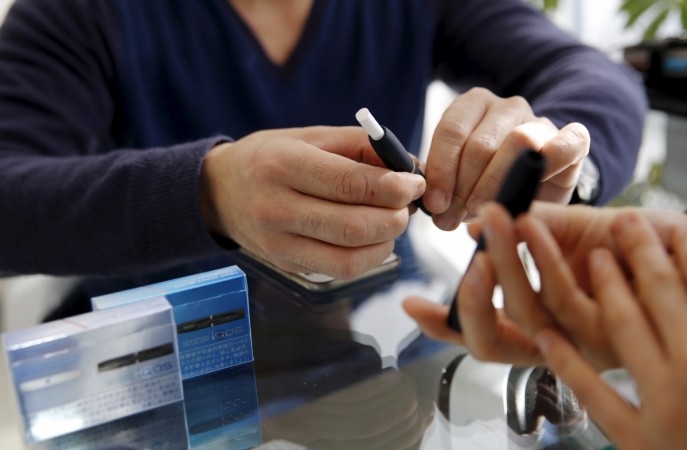 The boss of Philip Morris International, one of the world's biggest tobacco companies, has said it could eventually stop selling conventional cigarettes.
Philip Morris International put on sale in London a smokeless cigarette which it claims generates a fraction of the harmful chemicals produced by normal cigarettes.
It hopes to take on the e-cigarette market with the IQOS, which heats two-inch tobacco cartridges to 350C to release a smokeless vapour.
The firm said the level of harmful chemicals produced was 90-95% lower than cigarette smoke, but anti-smoking groups called for more independent evidence, reported the Evening Standard.
André Calantzopoulos, PMI's chief executive, said he believes enough smokers will start using it so the company can work with governments to think about a "phase-out" of cigarettes.
He told BBC Radio 4: "I believe there will come a moment in time where I would say we have sufficient adoption of these alternative products ... to start envisaging, together with governments, a phase-out period for cigarettes."
He added: "I hope this time will come soon."
Anti-smoking groups urgently called for more independent evidence into the IQOS technology but said it could lead to a "big improvement" in public health.
According to the Standard, it uses small two-inch cartridges of tobacco - called Heets - which are heated to around 350 degrees Celsius to release the vapour.
It is being marketed to existing smokers who do not want to give up but do want to reduce their chance of developing smoking related diseases.
It follows a £2.4billion investment by PMI over the last ten years involving more than 400 scientists at PMI's £145million research laboratory The Cube, in Neuchantel, Switzerland.
According to the Guardian, the health charity Ash said that unlike electronic cigarettes, which vaporise nicotine suspended in a liquid, the iQOS heats and vaporises tobacco.
Deborah Arnott, the chief executive of Ash, said independent evidence was needed to support any claims made by the tobacco industry that products were safer.
She added: "Philip Morris claims to be moving towards a post-smoking future but, like other tobacco companies, it is still actively promoting smoking around the world, using methods that would be illegal in the UK.
"From past experience nothing the tobacco companies say should be accepted at face value. Fully independent research and assessment will be crucial if iQOS and related products are to be accepted as useful in fighting the smoking epidemic."