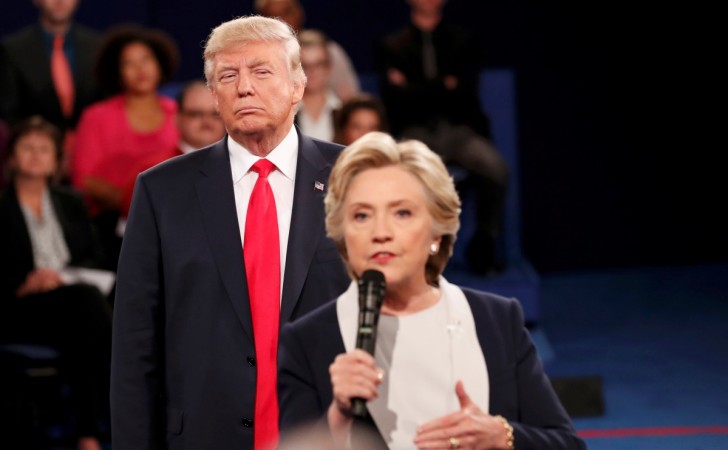 Stock markets across the world appear to be reeling after a tracking poll put Donald Trump in the lead with less than a week to go to election day.
Hillary Clinton's campaign team has rejected the findings of the poll for ABC News and the Washington Post, which put Trump a single percentage point ahead, calling into question the methodology used.
The poll gave the Republican 46 percent to Clinton's 45 percent nationally, a slump for the Democrat after news emerged that the FBI was investigating a new tranche of her emails.
And as shares in Asia hit a seven-week low following losses on Wall Street, FXTM Chief Market Strategist Hussein Sayed said he believed the markets were in the "early stage of panic" about next week's vote.
British government bond prices jumped on Wednesday, tracking US and German debt prices higher as markets reacted to the increased uncertainty.
Europe's Stoxx 600 index, which includes the 600 largest companies across the region, has hit its lowest level since July 11, and the VIX, a volatility measure dubbed the "fear gauge" for Wall Street, jumped 14 percent on Tuesday to its highest level since June.
Clinton flew in for a number of campaign events on Tuesday night in Florida, a state which her team sees as holding the key to victory on November 8.
And a senior aide told reporters on the campaign plane that they simply do not believe the new email story could have given Trump the lead or even affected their position in the polls at all.
The official said: "It's not what we see all," according to a report in The Guardian. "There seems to be something about that [ABC/Post] model that seems odd."
According to the Real Clear Politics tracker, which averages most major polls, the Democrat's lead slumped from 4.6 percentage points on Friday to 2.5 points late on Monday.
And a Reuters survey conducted in the midst of the FBI's announcement showed Clinton on 44 percent of the vote to Trump's 39 percent, already slipping slightly from a six-point lead with that pollster.