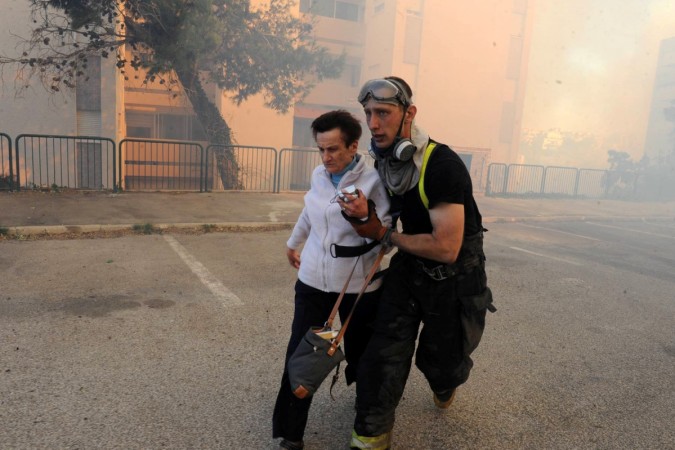 Some sixty thousand people were evacuated from their homes in Haifa Thursday as a wave of wildfires threatened the bay metropolis, bolstered by high winds and dry conditions that have contributed to a spate of blazes across the country this week, the Times of Israel reported.
Residents of a total of 11 neighborhoods in the city were told to leave their homes, as fires in at least five locations consumed homes and businesses.
By late afternoon, more than 100 people in the Haifa area had been treated for fire-related injuries, mostly smoke inhalation.
Israel Police chief Roni Alsheich said some of the fires were set by arsonists, "presumably with nationalist motives", but most were not. He said some suspects were in custody.
Top Arab MK Ayman Odeh called the arsonists "enemies of us all".
Haifa municipality spokeswoman Or Doron told AFP news agency that 50,000 of the city's residents had left their homes.
People loaded up supermarket trolleys with belongings, while schools, kindergartens, universities and an old people's hospital were evacuated.
Haifa Mayor Yonah Yahav said there were indications that one of the fires started when "someone tossed a cigarette in an area full of oil and flammable fluids" in an industrial zone.
Further south, Highway 443 - which links Jerusalem and Tel Aviv, crossing through the West Bank - was closed to morning traffic on Thursday as another blaze reached the city of Modi'in.
Homes and cars were damaged, and 300 students were evacuated from a school, in Talmon, an Israel settlement in the occupied West Bank, police said.
Firefighters have been battling fires in several locations since Tuesday, and forecasters are warning that the dry conditions and strong winds are likely to continue until early next week.
Several countries - including Cyprus, Russia, Italy, Croatia and Greece - have sent help and equipment, including aircraft, to help tackle the blazes.
Four Palestinians have been arrested and are due to appear in court on suspicion of starting a bonfire negligently.
"Almost 50% of the fires are apparently arson," Internal Security Minister Gilad Erdan told Army Radio.
Education Minister Naftali Bennett, the leader of the Jewish Home party, said on Twitter in Hebrew: "Only those to whom the country does not belong are capable of burning it."