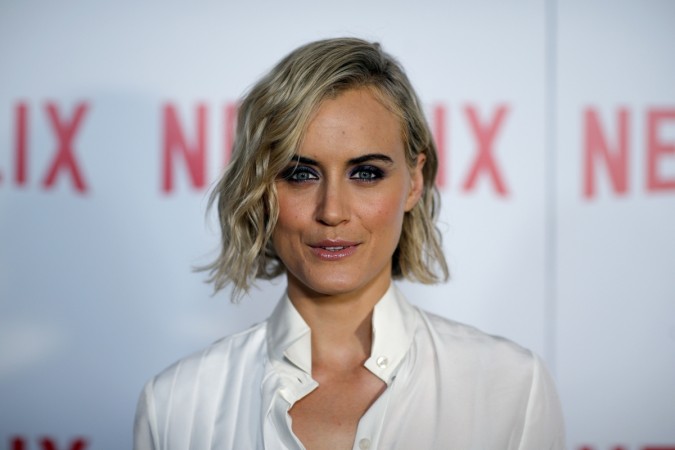 "Orange is the New Black" will be back on Netflix on June 17, and the promo for Season 4 promises a lot of drama. Season 3 finale saw a lot of new inmates coming into Litchfield, and viewers can expect trouble from these new faces. Jolene Purdy has been cast for a recurring role on Season 4, but it is not immediately known if she'll be an inmate or a prison guard.
The previous season ended somewhat on a cliffhanger for Alex, who had a face off with one of Kubra's assassins, and it was implied that Alex was shot dead. But new pictures from the season reveal Alex is alive and well. In one the pictures she is shown leaning over a fence.
Laura Prepon recently opened up about the future of Alex and Piper's relationship, saying her character will do her best to win over Piper. "She sees through all of Piper's BS. And that's why they're such a cool relationship," Prepon told Speakeasy. "And I think that Alex knows that she's putting it on – it's not really her….It's one of the reasons why Alex dumped [Piper] in Season 3. She's just like, 'Listen, this is kind of gross, and where's the real Piper?'"
Meanwhile, Taylor Schilling, who plays Piper on the prison drama, spoke to Cosmopolitan about her character's complicated love life with Alex, and revealed that filming sex scenes is not such a complicated process anymore. "They're pretty easy," she said. "To me it's a bit of choreography, then everyone is on their way home. It's not comfortable, but it's simple. For Laura and me it's just old hat now."
There are limits and Schilling added that she does have a nudity clause. "I don't know who wouldn't," she said. "But nobody is trying to sneak a nipple in there without telling you. Or an errant pubic hair!"