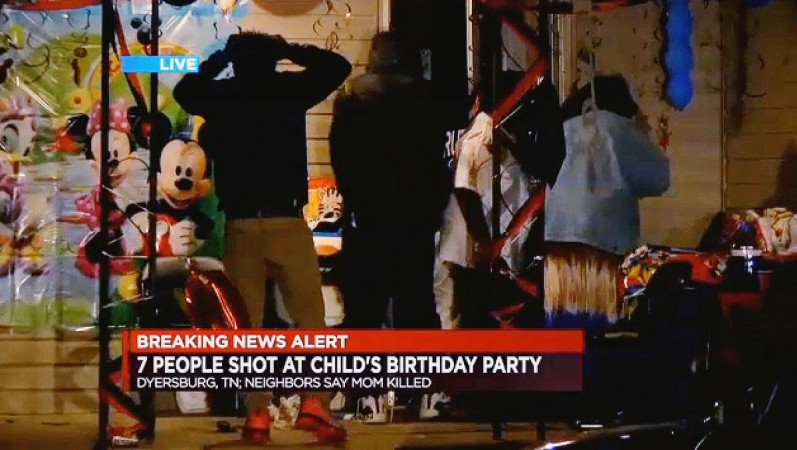 At least one person has been killed, and as many as six were wounded after gunfire rang out at a 2-year-old boy's birthday party in a small Tennessee town Thursday evening, the New York Daily News has reported.
Police responded to reports of a shooting at a home in Dyersburg around 6:20 p.m. local time, according to WMCA. Upon arrival, responding officers discovered a dead 21-year-old woman and at least six other people with bullet wounds.
Neighbors told the police that the woman who was killed is the mother of the birthday boy.
Party attendants were reportedly hanging out on the front porch when several gunmen opened fire before fleeing the bloody scene on foot. Police were scouring the small town for as many as three gunmen late Thursday, officials said.
Neighbor Stephanie Childress was the first person to arrive on the scene after hearing a barrage of bullets.
"Only thing I knew to do was to try and run down here and help as much as I could," she told reporters at the scene. "It was hysterical. The baby was sitting in the high chair and there was, I know, two on the porch that were shot. The one lady that I was helping was on the ground."
Childress said she performed CPR on the woman until emergency responders arrived.
Dyersburg Mayor John Holden, who's been in contact with police, told Memphis station WHBQ-TV a female was killed in the shooting around 6:30pm Thursday. Holden says others, including a 6-year-old, were hospitalized. The child's condition wasn't immediately known.
Police were still searching for a suspect or suspects but Holden said he thought the shooter and the victims knew each other. Holden said authorities had been called to the same home earlier in the day, but he didn't know the nature of the call.