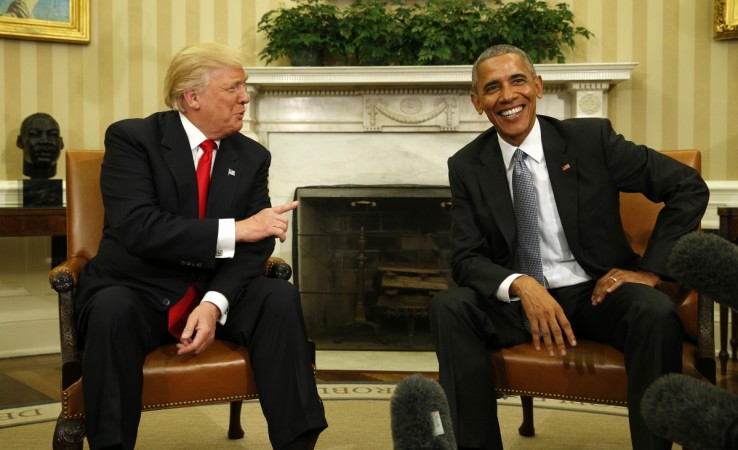 On the streets of America there were protests against the President Elect, Donald Trump. Hastags featuring NotTrump and NotMyPresident were trending.
Inside the White House, however, the man who gave America hope, met one of the most divisive political figures in American politics in a long time. Obama, the outgoing, greeted Trump...incoming!
In their first, and there will be more, 'handover meeting', the tone was cordial, almost otherworldly. Obama said he wanted to make Trump and his family "welcome as we prepare to make this transition".
As for Trump, he described his meeting with the US president as "excellent" claiming the two had a wide-ranging conversation on a number of topics ranging from foreign to domestic policy.
"Mr. President, it was a great honor being with you, and I look forward being with you many, many more times," Trump said with Obama sitting by his side.
NBC News reported that as Obama huddled with Trump for their closed-door meeting, White House Chief of Staff Denis McDonough strolled along the South Lawn with Trump's son-in-law and confidant, Jared Kushner. Trump's wife, Melania, was also at the White House to meet with first lady Michelle Obama.
News outlets reported that the "relaxed, cordial demeanor in front of the cameras was in stark contrast to the months of harsh rhetoric during the campaign".
Outside the White House, however, there were no large protests, and there was almost a sense that after the initial outrage and lashing-out of last night, a sense of realisation was dawning that the die was cast.
A USA Today reporter met two women who had arrived outside the White House expecting a large gathering of anti-Trumpers. They found a small crowd, too small, they felt, to define the gravity of the travesty.
"I think that there needs to be an uproar from people who are not feeling this decision and I think it's a damn shame that it's not happening on the ground right here in DC," said Bartlett, who was holding a blank black posterboard, told the USA Today.
"I'm not going to scream anything abstract even though I want to. ... I actually am surprised there's not more going on. I thought there would be other people protesting. I mean if there was other screaming, I'd be right there with them," Leary said.
Both women, however, added that they would be taking Obama's lead on this. They remembered Obama saying that the nation had to keep an open mind when it came to Trump, and that's what they would do...albeit grudgingly.
But ever-so-slowly, anger is morphing into something sort of a grim fascination, almost akin to watching a car crash in slow-mo.
Mike Grant, an owner of an auto body repair facility in New Jersey, told the USA Today: "Since he is president-elect, he is our president. So we're fascinated and interested in seeing what he does because everyone is wondering what he is gonna do."
In possible early signs that the vitriolic and often outrageous Trump of the campaign trail may be pushed into the forgetful shadows, controversial campaign proposals, including his call to ban Muslims from entering the United States, have been removed from the president-elect's campaign website.