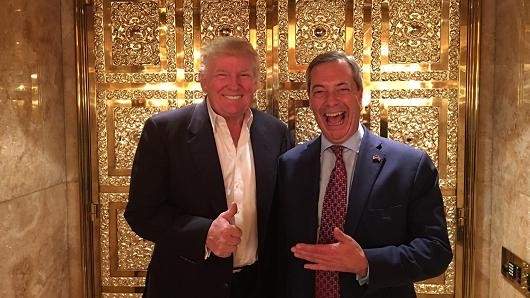 Nigel Farage is said to have dismissed reports he was planning to emigrate to the US alongside his wife as "utter nonsense".
It was reported the interim UKIP leader, who will stand down on Monday, informed friends he was preparing to emigrate to the US from his Kent home with his German wife Kirsten.
According to a report in The Times, friends claimed he was worried about life in Britain and had refrained from appearing in public with his family since Anti-Ukip protesters forced him to flee his local pub where he was eating with his family over a year and a half ago.
They also said the UKIP MEP, who proudly announced Britain had gained its "country back" after the Brexit result, would feel "freer" in America where he is less well-known.
Nevertheless, Norman Smith, the assistant political editor of BBC News, said Mr Farage has denied these reports. "UKIP's Nigel Farage dismisses as 'utter nonsense' reports he is to emigrate to US," Smith tweeted today.
Earlier, Farage, who US President-elect Donald Trump said would be great as Britain's envoy to Washington, taunted Prime Minister Theresa May with a mock ambassador's reception complete with chocolate and champagne.
At a party at London's Ritz hotel, Farage was cheered by his financial backers before offering guests pyramids of Ferrero Rocher chocolates, a joking reference to a long-running British 'ambassador's reception' TV advert which cast the gold-foiled confection as the delicacy of choice for diplomats.
May's government dismissed Trump's suggestion this week of "Ambassador Farage" saying there was no vacancy as Kim Darroch is currently serving as ambassador to Washington.
Farage praised what he called "the political revolution" that had brought Brexit and then the election of Trump, who Farage supported at a political rally before his victory.
"For those that are here who aren't particularly happy with what's happened in 2016, I've got some really bad news for you: It's going to get a bloody sight worse next year," Farage told guests from a staircase at the Ritz to laughs and cheers.