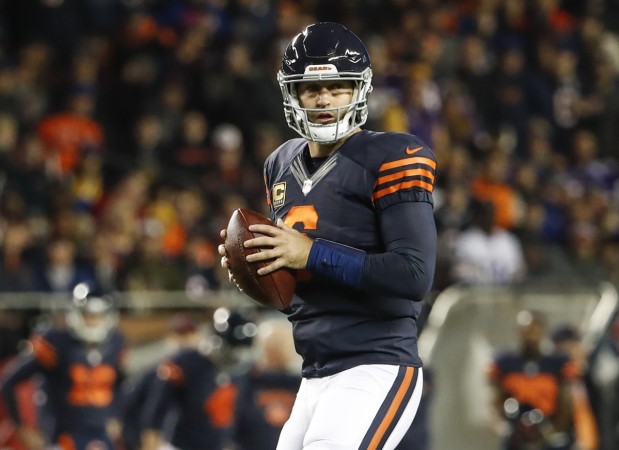 Sam Bradford and the Minnesota Vikings were rolling as the NFL's last undefeated team. Now, they can't even beat the last-place team in their division, according to AP.
Bradford got sacked five times behind a leaky offensive line and the Vikings dropped their second straight in a stunning 20-10 loss to the Chicago Bears on Monday night.
''We're a good team,'' guard Brandon Fusco said. ''It's not us. It's not Viking football. That's what is frustrating, we're such a good team. What we're putting out on the field is not us. We have to watch the film and get better from this.''
The Vikings (5-2) lost their second straight following a defeat against Philadelphia last week. And if there was any doubt the blueprint to beat them was out, it got squashed with this loss.
Cutler threw for 252 yards and a touchdown after missing five games with a thumb injury, rookie Jordan Howard ran for a career-high 153 yards and a TD and the Bears (2-6) dominated in the trenches en route to a stunning victory.
Bears receiver Alshon Jeffery revealed to ESPN that Jay Cutler delivered a pregame speech to the entire team that resonated throughout the locker room.
"He was talking about giving relentless effort," Jeffery said. "He said to give it everything you got and play for each other."
Cutler said he meant for the speech to be inspirational. The Bears had lost three straight heading into their prime-time showdown with Minnesota, and wanted to avoid falling to 1-7 on the year.
"It was about inspiration," Cutler said. "Everyone in there is from different backgrounds, different cultures, societies, family lives and schools. Whatever it takes to find that inspiration because motivation usually wears off at some point during the game. Those guys played inspired football, so it was fun to be a part of."
Cutler said he draws personal inspiration from a lot of outside sources, including his wife and children.
"Well, it's very personal," Cutler said. "It's been 11 years of [his playing in the NFL] and to be part of a locker room like that and get the game ball like that, it was fun."