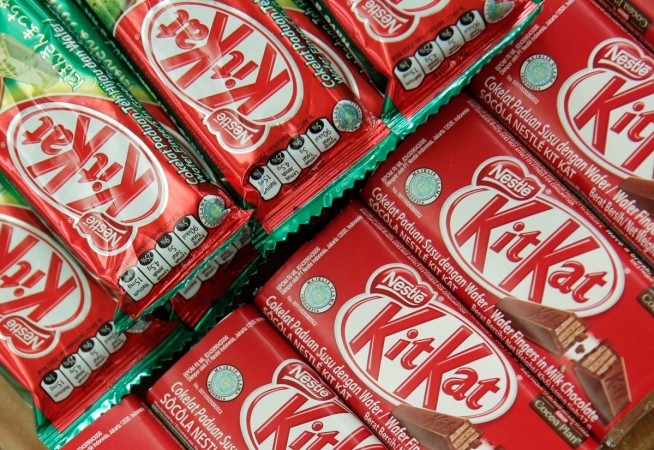 Nestlé has claimed it has found a way to slash the amount of sugar and calories in chocolate while keeping it just as sweet.
The Swiss food giant, which makes KitKats and Aeros, last night announced it had developed a process to alter the structure of sugar to make it sweeter in smaller quantities.
Nestlé's chief technology officer, Stefan Catsicas, said the new recipe would be used in its products from 2018.
'We want people to get used to a different taste, a taste that would be more natural, he said.
The decision comes in response to concerns that a national addiction to sugar is fuelling obesity and associated medical conditions, such as Type 2 diabetes, according to the Daily Mail.
Using only natural ingredients, Nestle said its researchers had found a way to structure sugar differently, so that less sugar can be used in its chocolate.
If the new sugar lives up to its billing, it would represent a milestone in the food business's never-ending quest for more healthful ways to sweeten products, reported the Independent.
Professor Julian Cooper, an independent food technology consultant, told the BBC that Nestlé's development was important: "This is good science. A lot of people have been looking at sugar trying to reduce the amount."
Nestlé's breakthrough follows PepsiCo's recent commitment to spend billions of dollars creating new snacks and beverages, and reformulating existing ones to cut salt, sugar and fat content.
Earlier this year, Coca-Cola changed its Coke Zero recipe and renamed it Coca-Cola Zero Sugar in the UK to make it "taste more and look more" like the original one, the company said.
The move to replace Coke Zero was supported by a £10m campaign.
Nestlé, move comes as the UK and some cities in the US implement sugar taxes to help fight childhood obesity and diabetes, which affects four times as many people now than in 1980.