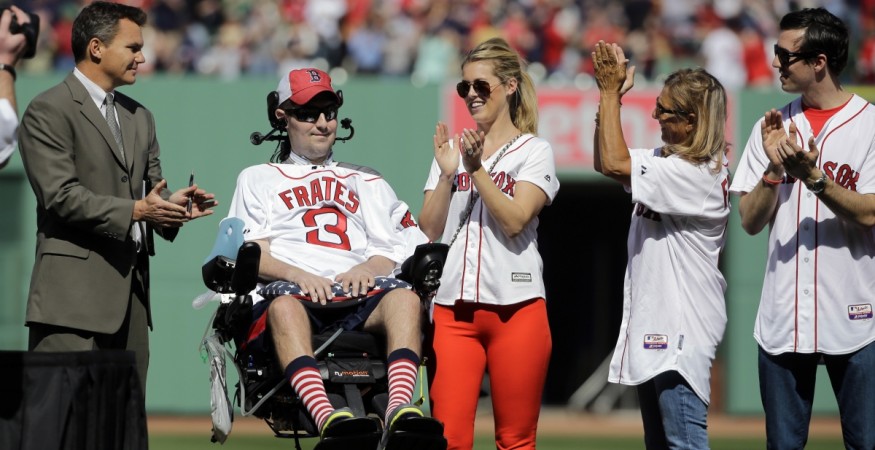 The NCAA is honoring the former Boston College baseball captain, Peter Frates, who inspired people around the world to dump buckets of ice water over their heads to raise millions of dollars for Lou Gehrig's Disease research.
The Beverly, Massachusetts native, a champion in the fight against Amyotrophic Lateral Sclerosis (ALS), will receive the 2017 Inspiration Award from the National Collegiate Athletic Association at the NCAA Honors Celebration in Nasvhille, January.
According to Salem News, the award is presented to "a coach or administrator currently associated with intercollegiate athletics, or to a current or former varsity letter-winner at an NCAA institution who, when confronted with a life-altering situation used perseverance, dedication and determination to overcome the event and most importantly, now serves as a role model to give hope and inspiration to others in similar situations".
Frates was diagnosed with ALS in March 2012. When Frates was confronted with his bleak diagnosis at the age of 27, he faced it head on and decided, while he was in for the fight of his life, he also going to fight to find a cure for ALS.
Today, according to FOX 25 WFXT, Frates cannot breathe without a ventilator and he relies on eye-tracking technology and an iPad to communicate. Confined to a wheelchair, he cannot travel to the places he once went, including road trips with the Boston College baseball team. He has not let any of that stop him.
What is ALS?

Amyotrophic Lateral Sclerosis (ALS) disturbs the nerve cells in the brain and spinal cord. The effects impede the capability of the brain to start and regulate muscle movement. Without the ability to perform voluntary muscle action, the body becomes induced into total paralysis over a length of time. Most people diagnosed with ALS are given two to five years to live.
His determination and perseverance has allowed him to continue his mission to raise awareness and funds to find a cure for ALS, a disease that since Lou Gehrig's diagnosis 75 years ago, had barely had any advancement.
Frates saw an opportunity to create a massive awareness campaign that was easy, fun and could take social media by storm. And, as we all know, that is just what happened.
The ALS Ice Bucket Challenge raised over $220 million for ALS Association in the summer of 2014 and countless more for other charities and individual funds. The disease became common and Pete Frates became a household name.