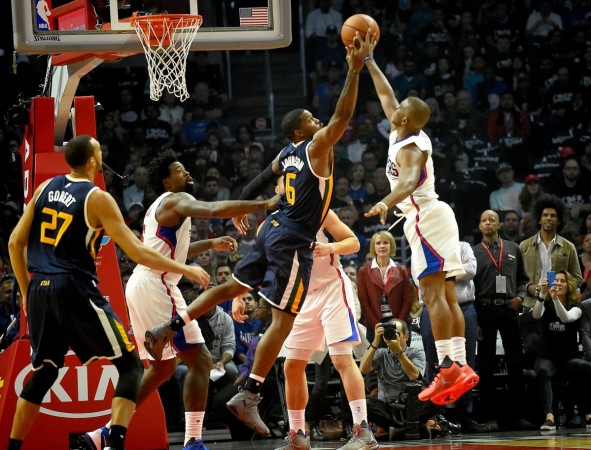 The Los Angeles Clippers and Atlanta Hawks also improved to 3-0 with wins on Monday. Chris Paul scored 18 of his 24 points in the second half as the Clippers routed the winless Phoenix Suns 116-98 in Los Angeles.
Paul also had eight assists and five rebounds. Blake Griffin added 21 points, 11 rebounds and five assists for the Clippers.
Clippers center DeAndre Jordan didn't seem to show any ill effects from a sprained right thumb suffered in Sunday's win over the Utah Jazz, finishing with 19 point and 11 boards.
"The thumb? It would be hurting if we lost, but we won so it feels a lot better," he said.
Jamal Crawford added 14 points and JJ Redick scored 13.
The Suns were without guard Devin Booker, who sat out with a sore right big toe. Booker apparently aggravated the injury in Sunday's 106-100 loss to Golden State.
Brandon Knight started in Booker's place and led the Suns with 18 points.
The Clippers broke the game open in the third quarter. Two free throws by Knight allowed the Suns to close within 56-55 with 7:12 left in the period.
But the Clippers put together a 22-9 scoring run for a 78-63 lead and the Suns couldn't respond.
"We started off slow again. I thought we missed open shot after open shot," Clippers coach Doc Rivers said.
"I think they stayed engaged defensively and they just kept trusting and eventually (shots) started to fall. Once the basket opened up, the way we were defending we were in great shape," he added.
The Hawks improved to 3-0 with a 106-95 victory over the Sacramento Kings in Atlanta.
Paul Millsap and Dwight Howard both posted double-doubles for the Hawks, who led by double digits but needed a fourth-quarter surge to win after letting the Kings back into it.
Millsap finished with 13 points and 14 rebounds and Howard had 18 points and 11 rebounds. Four other Atlanta players scored in double figures for the win in a bruising contest in which the teams combined for 54 fouls.