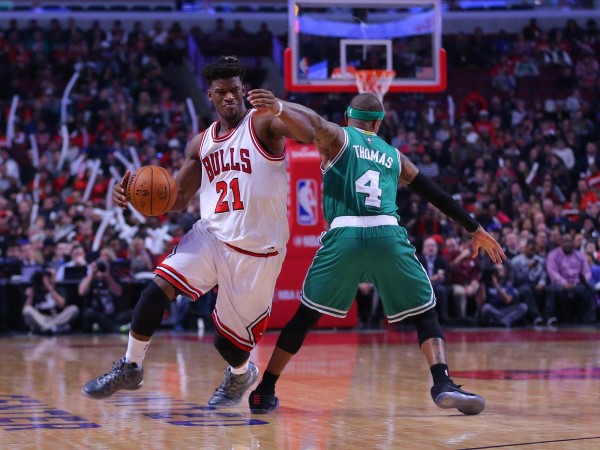 The Chicago Bulls ran roughshod over the Brooklyn Nets on Monday, producing an explosive offensive effort in a 118-88 victory that has them off to a 3-0 start in the NBA.
It's Chicago's first 3-0 start since the 1996-97 season, and it comes despite fears that off-season changes including the departure of Derrick Rose and arrival of Dwayne Wade might see the Bulls take some time to click.
The Bulls connected on 50.6 percent of their shots from the field, including 40.7 from three-point range.
Seven Bulls players scored in double figures, led by Jimmy Butler's 22 points.
"Our intensity out of the gate has been really good," said coach Fred Hoiberg, whose Bulls scored 38 points in the opening quarter and never trailed after the opening three minutes.
They led by double digits most of the night.
Wade scored 12 points in his first road game with the Bulls. That included a slick crossover move on the Nets' Bojan Bogdanovic in the fourth quarter that drew some appreciative gasps from the crowd.
"I always get great support when I come here," Wade said. "The fans are amazing. It feels like home. I don't know if they cheer like that for me at home when I got the ball. So it was great to be out there," he added.
Nikola Mirotic collected 16 points and 10 rebounds, while Isaiah Cannan added 15 as the reserve duo combined to hit seven of Chicago's 11 three-pointers. Taj Gibson added 14 and 11 rebounds, Doug McDermott contributed 12, while Rajon Rondo had 10.
Bogdanovic led the Nets with 15 points while Jeremy Lin added 14 and Brook Lopez had 13 in 22 minutes after resting Saturday.
"I just think we didn't have that normal pop or that explosiveness or the normal hunger that we normally have on the defensive end, actually just in general," Lin said.