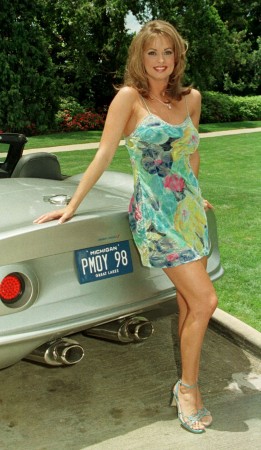 The company that owns the National Enquirer, a backer of Donald Trump, agreed to pay $150,000 to a former Playboy centerfold model for her story of an affair a decade ago with the Republican presidential nominee, but then didn't publish it, according to the Wall Street Journal.
The tabloid-newspaper publisher reached an agreement in early August with Karen McDougal, the 1998 Playmate of the Year.
American Media, Inc. CEO David Pecker, a close friend to Trump, coaxed 1998 Playmate of the Year Karen McDougal into selling him the rights to a story alleging she had a consensual romantic relationship with the real estate mogul just one year after he married his third and current wife, Melania
Pecker allegedly convinced McDougal to sign a life-long contract prohibiting her from sharing the story with any other media outlets in exchange for the hefty dollar amount.
McDougal was under the impression that her story would be published in the Enquirer, sources familiar with the matter told The WSJ. But Pecker ultimately called the story off and actually never had any intensions to run it, according to sources.
A spokeswoman for the Donald Trump campaign claimed the allegations were "totally untrue," adding "we have no knowledge of any of this."
American Media, Inc. and Pecker admitted to buying the story, but dodged questions about whether they did so to shield Trump, who stands accused of groping and sexually assaulting at least 13 women, most of whom came out after a hot mic recording from 2005 caught the billionaire bragging about being able to "grab [women] by the pussy" because he's 'a star'."
The company refuted that it bought the story for $150,000, instead claiming it purchased it in exchange for McDougal being given her own two years' worth of fitness columns and magazine covers.