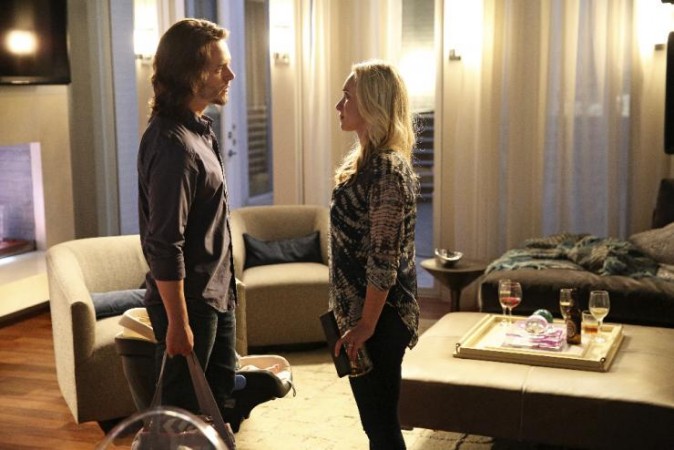 "Nashville" season 4 is on a long midseason break. The show went on a hiatus after airing Episode 10, "We've Got Nothing But Love to Prove," on 9 December, 2015. While many fans are eagerly waiting for the show to return, it looks like they will have to wait a bit longer. There will be no new "Nashville" episode even this Wednesday, 3 February, 2016. ABC will now air Episode 11 only on 16 March, 2016.
The midseason finale saw major changes in dynamics of various relationships, particularly Deacon-Rayna's and Avery-Juliette's, on the show. While engaged couple Deacon and Rayna will walk down the aisle when the show returns for the second half, Avery, on the other hand, is contemplating whether or not to let Juliette back into his life.
In "We've Got Nothing But Love to Prove", we also saw that Emily managed to convince Avery that Cadence needed Juliette in her life so that she can grow up without losing out on mother's love. And after their discussion, Avery agreed to give Juliette visitation rights for their daughter.
And now, though the network hasn't released any official synopsis, photos or promo for the upcoming episode, there are reports that Juliette is all set to return from the rehab and that her assistant Emily is trying hard to convince Avery to give her boss a second chance.
But, going by the looks of how the midseason finale ended, it seems like Avery will reject Juliette's apology and Emily, who is already in talks with Avery, will push harder to bridge the gap between the couple.
Avery has already made it very clear that he doesn't trust his wife and doesn't think she deserves a second chance. He even told Emily that he thinks that Juliette is just being manipulative. So now, we have to wait and watch if Emily succeeds in convincing Avery, whether Avery will take back Juliette or whether his unbending ways will push her back into depression.
"Nashville" Season 4 is on a midseason break and will return with Episode 11 on 16 March, 2016. For more information on the upcoming episode and live streaming details, don't forget to check back here.