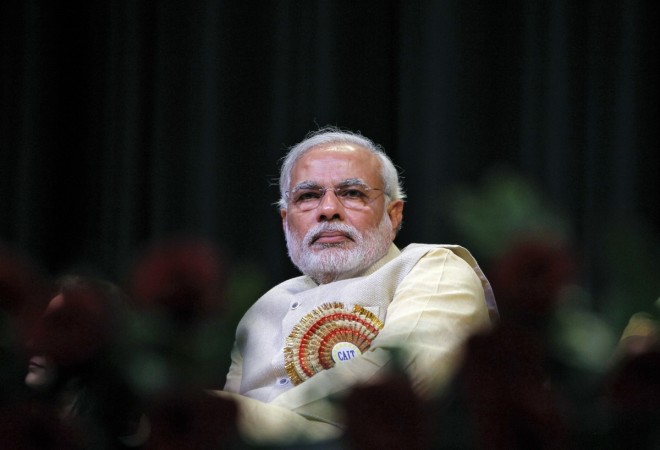 Narendra Modi's swearing-in ceremony, to be held on Monday evening, will be the biggest of its kind ever happened at the Rashtrapati Bhavan in New Delhi.
More than 3,000 guests are expected to attend the grand oath-taking ceremony of Modi and his ministers. SAARC leaders, Indian politicians and several dignitaries will be part of the ceremony to be held at the forecourt of the Rashtrapati Bhavan.
Tight security arrangements have been made in and around the Rashtrapati Bhavan in the wake of the presence of the VVIP guests.
Timings
The swearing-in ceremony will commence at 6 pm on Monday (26 May). Modi and his cabinet ministers will take around two minutes to complete their oath-taking procedures. The duration of the swearing-in ceremony will depend on the number of ministers taking oath of office, reported DNA. The Prime Minister and the cabinet ministers will take two sets of oath, shake hands with President Pranab Mukherjee before signing in the register and returning to their seats.
Watch Live Information
The grand ceremony will be telecast live on several TV channels and will be live streamed online as well. All major Indian channels including Times Now, NDTV, CNN IBN, ABP News, Zee Newa, AAj Tak, DD News, Doordarshan national channel, IBN 7, Headlines Today, Rajya Sabha Television, CNBC TV18 and many others will be covering the grand ceremony.
Several regional news channels (Hindi, Tamil, Telugu, Gujarati, Kannada, Marathi and Urdu) are also likely to cover the live event.
Online
Doordarshan will be live streaming the event online.
The official website of the President of India Pranab Mukherjee will also provide the webcast of Narendra Modi and his ministers' oath-taking ceremony.
Zee News will be streaming the event live HERE. Tv9 Gujarati will be covering the live event HERE and Mango News will live stream it HERE. The Bharatiya Janata Party (BJP) will also live stream the event on their YouTube channel. The live video will be available from 5 pm onwards.
Modi to Become 15th Prime Minister of India
Prime Minister-designate Narendra Modi led his party to a landslide win in the 2014 Lok Sabha elections. The BIP won a majority of seats for the first time in 30 years and the party-led NDA will form the government under Modi's leadership. He will serve the country as the 15th Prime Minister of India.
Modi will take charge as the new Prime Minister of India in a few hours. Along with him, 45 ministers will reportedly take oath of office at the Rashtrapathi Bhavan. BJP leaders including Rajnath Singh, Sushma Swaraj, Smriti Irani, Arun Jaitley, Ravi Shankar Prasad, Ramvilas Paswan, Maneka Gandhi and Ananth Kumar will be among others who will reportedly be sworn in as cabinet ministers. As many as 11 ministers of state and independent charges will also be taking oath on Monday evening.