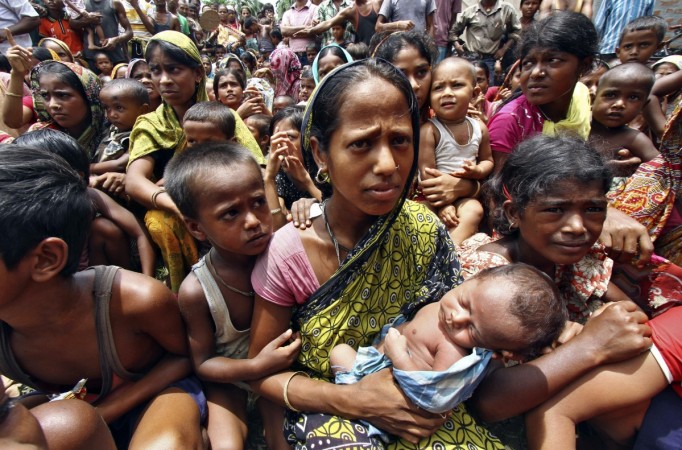 Muslims of Nellie, a village about 50 km away from Assam's capital city Guwahati, seem to have made a paradigm shift in the recently-concluded Assam assembly polls. Residents of the village apparently voted for the Bhartiya Janata Party (BJP), saying their hopes now rest on the party to improve their living conditions.
"Our trust in the BJP is based on hope. The AGP [Asom Gana Parishad] and the Congress ruled for so many years and they have done no good to us," Sulaiman Ahmed Qasmi, former chairman of Jamaat-e-Ulema Hind, told the Hindu.
The village is generally remembered for having witnessed one of the worst communal riots in Indian history. In February 1983, at least 1,800 Muslims were massacred for having defied an election boycott call given by the All Assam Students Union (AASU) and voted in the February 1983 elections, the daily said.
The boycott call was given by the AASU to drive home the point that many "illegal migrants" from Bangladesh had occupied territories in Assam and had even managed to get their names included in the voters' list. The AASU was spearheading a campaign to deport all such "illegal migrants."
Incidentally, BJP lawmaker Sarbananda Sonowal, who took oath as the chief minister of Assam on Tuesday, was a student leader of the AASU during the period.
Victims of the massacre who lost their near and dear ones recalled the horror.
Abdul Hamid, a 66-year-old resident of Nellie, said he lost his mother and sister in the killings. They were stabbed and died two days later in the relief camp. "Their wounds got infected and there was no doctor in the camp," he told the Hindu.
The Indian Express carried a report last month on the brutal nature of the violence on people, most of whom were Bengali-speaking Muslims.
"I don't remember how old I was but I hadn't even started growing a beard when it happened. They beat me up, attacked me with an axe, killed my mother and sister. There was a mob surrounding us and all they would say is 'Kill the Bangladeshis'. I haven't walked straight since that day. We got Rs. 5,000 for getting killed, those that killed us got Rs. 50,000," Ataur Rehman, a villager, told the daily.
A retired school teacher summed up the living conditions in the region. "There are issues — roads are bad, there are four rivers on which bridges are needed, there is rhino poaching at Pobitora wildlife sanctuary," Pabitra Sarma said.
Last February, The Caravan wrote about one of the many killings that occurred on Feb. 18, 1983, in the region, as narrated by a resident.
"I woke up at 7 am that morning and saw no one around. None of my family members were home. Even the children could not be seen. I got worried and wondered where they all went. I assumed that they had all gone to my sister's house nearby, but when I reached her place, I saw that there was no one there either," Khairuddin, a resident of Borbori village in Morigaon district of Assam, told the magazine.
Khairuddin lost two sons, a daughter, his wife, parents and four brothers along with their families in just one day.