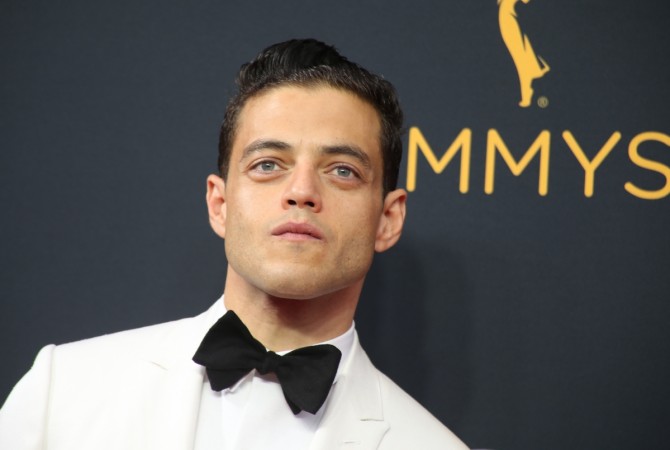 Mr Robot-star Rami Malek will soon be belting out Queen tunes on the big screen (hopefully with considerably more skill than the lads from Wayne's World).
He's slated to play Freddie Mercury in the upcoming film, Bohemian Rhapsody, according to E! Online.
Amid speculation that the Emmy Award-winning actor was in talks to play the late musician, X-Men's Bryan Singer seemingly confirmed the exciting casting news on Instagram.
Singer posted the cover art for Queen's memorable track and wrote, "Looking forward to @ramimalek playing #freddie."
GK films, New Regency and Fox are all joining forces to bring the life of the singer to move theaters and The Theory of Everything's screenwriter, Anthony McCarten, is said to have written the script.
According to Entertainment Weekly, Sacha Baron Cohen was initially attached to the GK Films production in 2010 but dropped out over creative differences in 2013. Cohen wanted a more realistic, R-rated look at the band and Mercury's life, while the band preferred going for a PG tone.
"The problem is — and I think it's with any biopic, and I fully understand why Queen wanted to do this — if you're in control of your rights and your life story, why wouldn't you depict yourself as great as possible?" Cohen told Howard Stern earlier this year.
Cohen added that the original story, based on Peter Morgan's (Frost/Nixon) script, would have followed the band carrying on after Mercury died of AIDS in 1991 at the age of 45.
"I said, 'Listen, not one person is going to see a movie where the lead character dies from AIDS, and then you see the band carry on'," he told Stern.
Even with Baron Cohen and the band's differing viewpoints, the project did move forward for a while, and Baron Cohen said that he initially tapped Frost/Nixon writer Peter Morgan to pen the script and that David Fincher and Tom Hooper both expressed interest in directing. But ultimately, creative differences put the entire project on an indefinite hold, EW reported.
"The remaining members are still great musicians," Baron Cohen added. "Brian May is an amazing musician; he wrote half their stuff. But he's not a great movie producer."