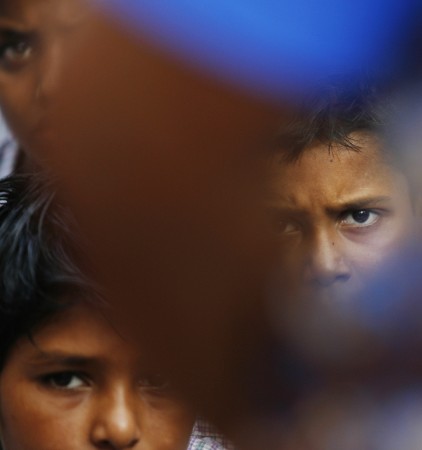 The BJP-led NDA government on Wednesday approved the amendments to the Juvenile Justice Act that will now allow juveniles in the age group of 16 to 18 years, who are accused of committing a heinous crime, to be tried as adults.
The decision was taken at a cabinet meeting led by Prime Minister Narendra Modi in view of the increasing number of crimes being committed by juveniles above 16 years.
"Keeping in view the increasing number of serious offences being committed by persons in the age group of 16-18 years and recognizing the rights of the victims as being equally important as the rights of juveniles, special provisions were proposed to tackle heinous offences committed by individuals in this age group," an excerpt from the official statement read, IANS reports.
Juvenile Justice (Care and Protection of Children) Bill 2014, which will replace the existing Juvenile Justice Act 2000, will ensure the child's right is secured. After the amendment is implemented, the Act will differentiate between and study all (petty, serious and heinous) crimes in detail before coming to a conclusion.
The statement further stated, "this unique instrument of a two-stage assessment or trial brings about a balance that is sensitive to the rights of the child, protective of his legitimate interests and yet conscious of the need to deter crimes, especially brutal crimes against women."
"The proposed amendment further reinforces these principles through introduction of a new provision that disallows the protection from disqualification in cases where a juvenile is tried and convicted under the adult system," it said.
According to the statement, "the amendments to the draft bill strike a fine balance between the demands of the stakeholders asking for continued protection of rights of juveniles and the popular demand of citizens in the light of increasing incidence of heinous crimes by young boys".
The cabinet's approval to the amendment has been received well by Twitterati. It was a crucial decision as one of the rapists involved in the brutal gangrape of Nirbhaya was a juvenile. Most people across India demanded a trial of the juvenile, who had inflicted the most brutal physical assaults on the victim.
Revamping Juvenile Justice Act is an excellent job. If somebody is grown enough to rape or murder he deserves to be treated as criminals.

— Sabyasachi Banerjee (@MrAmbiDexter) April 23, 2015
"@manishalakhe: seriously welcome the change in juvenile justice act. commit heinous crime, be tried as an adult..." came a little too late

— Tushar Lakhe (@tusharlakhe) April 23, 2015
ThankU MoDiji for Giving Justice to Nirbhayas by Changing Juvenile Justice Act — Arun Gokul (@arungokulvs) April 23, 2015
Govt approves Juvenile Justice Act, now 16-18 year olds can be tried under adult laws. Whole nation was demanding this act .

— डा.सीमा (@seematripathi6) April 23, 2015
Thanks bjp govt for changing in Juvenile Justice Act — Akki-ParineetiHolic (@Ravikumar8055) April 23, 2015
Amendment to Juvenile Justice Act cleared, opens possibility of juvenile to be tried as adult for heinous crime. Jai Ho !! ☺ — Upkar Kumar (@kumarupkar) April 23, 2015
Kudos to the the amendment in Juvenile Justice Act because if you can gang rape and assault at the age of 17 you can very well pay for it. — Krishnaa Samal (@KrishnaaSamal) April 23, 2015