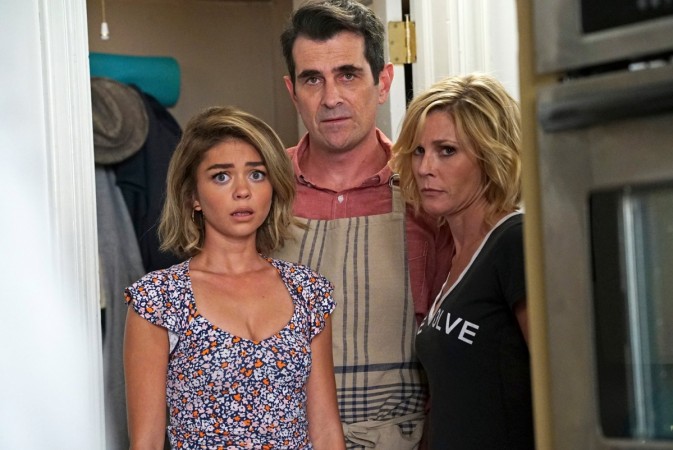 Season 7 of "Modern Family" ended on a very touching note with the finale episode "Double Click." If you didn't love Phil Dunphy (Ty Burrell) already, you are sure to fall in love with him after the Season 7 finale, for being a hilarious human being overall, and for being an exceptional father.
Phil not only gave exceptional advice to Luke (Nolan Gould) after learning his girlfriend broke up with him, he also inadvertently helped Andy (Adam Devine) and Haley (Sarah Hyland) mature as individuals and partners. Despite a serious lack of screen time, Andy and Haley have become a favourite couple among "Modern Family" fans and we have loved to obsess over them through their highs and lows.
Throughout "Modern Family" Season 8 we saw Andy and Haley work through the misgivings and misunderstandings of their relationship and become a well-adjusted loving couple. For Haley to let go of the relationship for the sake of Andy's happiness shows exceptional growth in the character and is a testament to the brilliant writing of "Modern Family."
Also Read: 'Bad Girls Club' Season 15 reunion seen Jazmyn and Jaimee get attacked by everyone
In "Double Click" Haley hears Phil telling Andy, "If you're not taking that job in Utah because of me, you're making a mistake. I love you and me together but it would break my heart if I was the reason you gave up this dream career opportunity. Because, honestly, I don't know how much of a future there is, here, but if our bond is as strong as we think it is, we'll work out way back to each other."
Haley realises that is exactly how she feels and tells him as much. While it was heartbreaking to see the adorable couple break up, the final words in Phil's speech give us hope. Hopefully, Andy and Haley will work their way back to each other in the upcoming Season 8 itself.
An official date for "Modern Family" Season 8 premiere has not been announced by ABC, but looking back the seven seasons, it is almost certain that the upcoming season will also premiere in September, most possibly Sept. 21 or Sept. 26.