More people accessed the web from smartphones and tablets than from desktop devices for the first time in October. So say the latest numbers from StatCounter.
The firm's research division said that mobile and tablet devices accounted for 51.3 per cent of internet use worldwide in October compared with 48.7 per cent on desktop.
These figures have no doubt been driven by the proliferation of web-enabled smart devices like phones and tablets in developed and emerging regions, The Inquirer reported.
StatCounter CEO Aodhan Cullen explained that the data underlined the importance of having a solid mobile web offering.
"This should be a wake-up call, especially for small businesses, sole traders and professionals, to make sure that their websites are mobile friendly. Many older websites are not," he said.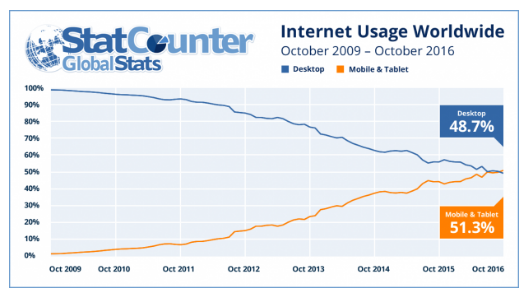 "Mobile compatibility is increasingly important not just because of growing traffic but because Google favours mobile friendly websites for its mobile search results."
Google has recently launched greater support for mobile business, as it was revealed a greater number of web searches using their engine come from mobile devices.
In July the company released a 'Test Your Site' tool to help keep track of how mobile websites are performing compared to desktop, reported ITPro.