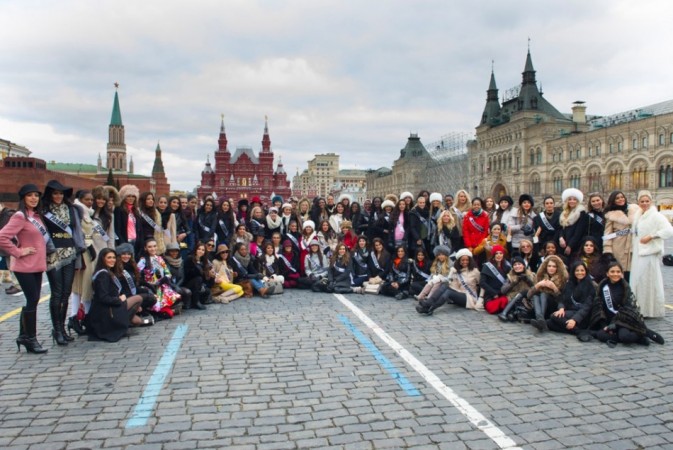 The Miss Universe 2013 contestants took off on the welcome tour on Saturday morning in Moscow, Russia.
After the welcome dinner party on Friday night, the contestants of the 63rd edition of the beauty pageant went for the first official tour at the famous and historic Red Square and Bolshoi Theater on Saturday morning.
The contestants explored the beautiful city of Moscow and interacted with people around them.
After wrapping up the city tour, the contestants arrived at Rio Leninsky Mall for Yamamay Meet and Greet Fashion Show. Later in the evening they visited Manege Central Exhibition Hall for the Tony Ward Couture Fashion Show.
Among the 88 contestants, 27 were selected to walk the ramp at the Tony Ward Couture Fashion Show which was in line with the Mercedes Benz Fashion Week in Russia.
The fashion show, titled "Frozen Memories", was opened by Miss Universe 2012 Olivia Culpo of US on Saturday night, followed by the other 27 contestants walking the runway.
The 27 contestants are from Australia, Poland, Romania, Singapore, Ukraine, Nicaragua, Mexico, Puerto Rico, Jamaica, Panama, Sweden, Turkey, Venezuela, India, Great Britain, France, Japan, Spain, Belgium, Canada, El Salvador, Austria, Lebanon, Russia, Philippines and Thailand.
Earlier, on Friday the contestants attended the first official meeting which was organised by the pageant organisers. A grand welcome dinner party was hosted for the contestants on Friday night at Lotte Plaza in Zafferano Restaurant, Moscow.