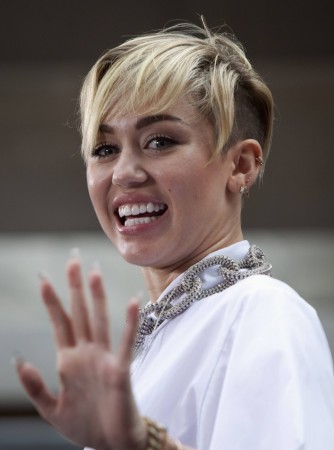 Miley Cyrus became the first artist this year to rank No.1 on both the singles and album U.K. sales charts.
It's probably because she knows how to win the hearts of her fans that Miley Cyrus gets away with the weird things she does. After her disastrous and highly criticized VMA performance, it's surprising that the young singer has been written off. In fact, seems like Cyrus has come back stronger than ever. The former "Hannah Montana" star became the first artist to top both the singles and album's U.K. sales charts. While her recent song "Wrecking Ball" features right on the top of the U.K. singles sales chart released yesterday, her album "Bangerz" become her third U.K. top ten albums.
There was a time in Cyrus' career when people thought Cyrus would never make it to the top 40 as a singer, leave alone the number one spot because they all felt Disney was too squeaky clean. However, Cyrus proved them all wrong. According to Josh Eells, the Rolling Stone writer who went skydiving and to a tattoo shop with Cyrus for Rolling Stone's recent cover story, Cyrus' transition from a Disney star to an established singer began when she was 17, when she was filming the comedy "LOL" in Detroit with Demi Moore.
"She said that was the first time that she was really ... basically by herself. There were other(s) -- obviously the rest of the cast and crew was around -- but she was kind of living on her own," Eels said, according to CNN. "She would go out to clubs, which she'd never really done before. I think it was probably easier for her to be anonymous or kind of fly under the radar in Detroit a little bit. She said she learned a lot from (Moore), and I think she got into hip-hop more up there."
However, this wasn't the turning point for Cyrus. While "LOL" failed to create a dent in the singer's career, a dramatic haircut and her engagement to Liam Hemsworth did wonders to keep her in the news for a very long time.
With her platinum, super-short haircut, Cyrus rapidly transformed from the cute girl-next door to the punk rocker who was "absolutely crazy." The singer revealed that with her "Hannah Montana" days far behind her, she is "able to be just more honest as an artist. And that's really what my record is about."