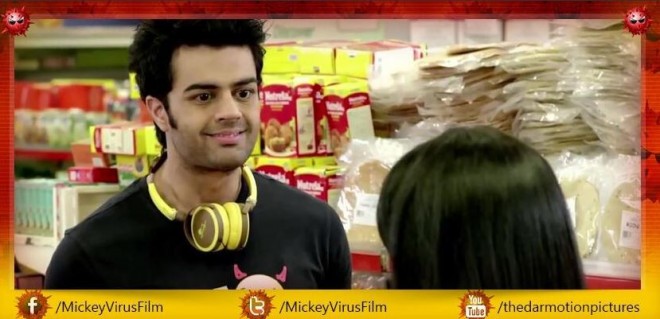 Comic thriller "Mickey Virus" has hit the screens in theaters worldwide. The comic thriller has opened to a good response from audiences and mixed responses from critics.
The film marks the debut of popular television host Manish Paul and Elli Avram as actors and Saurabh Varma as director. The premiere of the film took place on Thursday night in Mumbai, which was attended by the television actors. However, the lead actress Avram was missing as she is presently in the reality show "Bigg Boss 7" as one of the housemates.
Set in the backdrop of Delhi, the film tells the story of a hacker Mickey (Manish Paul) who ends up getting trapped in some problem or the other.
Critics have given two to three-and-a-half stars to the film calling it an interesting thriller. But it remains to be seen whether Paul would be able to make it big in Bollywood with his debut film.
Read the critics review here:
Taran Adarsh of Bollywood Hungama said: "While much of the first half of MICKEY VIRUS is committed to Mickey, his friends and the romantic liaison with Kamayani [Elli Avram], the story gathers momentum towards the post-interval portions. Besides, a few portions do move at a sluggish pace in this hour and one wonders why debutant director Saurabh Varma has devoted so much time and footage to Mickey and his sweetheart. Of course, it's only towards the subsequent half that Saurabh opens the cards and one realizes that the first-time director was only creating the base for the turn of events that are due in the latter half.
"Despite being his first attempt at directing a film, Saurabh Varma's proficiency is appreciable in a number of sequences. On the whole, MICKEY VIRUS is a well-made, engrossing thriller that should be liked by the youngsters."
Mohar Basu of Koimoi.com said: "Saurabh Varma's Mickey Virus is indeed a wickedly thought film but it adopts an overtly contrived and complicated plot to build a story that is predictably simplistic. The screenplay is stuffed up with unnecessary elements, mostly songs, that makes the film's first half feel like an absolute drag. However the concept saves it from being an absolute nonsense though it might ring incomprehensible in parts. Manish Paul's otherwise cute buffoonery isn't enough to drag you to the cinema halls but given good films are in short supply these days, this might be the best way to relish your popcorn.
"Saurabh Varma's film manages to rank as endurable for the sheer novelty in its concept. And though the idea is less delved into, the uniqueness suffers a beating when the director hams up old cliches adding to it a new spin.
"Mickey Virus is quite a breather from the low IQ comedies we are subjected to on many Fridays. A tauter script, with more humor and a steamier story could have helped this film in rising above being merely a moderate entertainer. Side step your regular expectations, if you at all decide to give this film a shot. For a few laughs, a not-so-dull second half and somewhat interestingly made suspenseful story, Mickey Virus can count as an average, not a must-watch."
Madhureeta Mukherjee of The Times of India said: "We aren't internet keedas here, but let's try cracking into Mickey's (Manish) world of codes, crypts and consoles. This one isn't so deadly that we can't decode, or so simple that we just download and ESC (read: escape). So, risk it and hit ENTER!
"Manish is apt for the role, he makes a good debut with confidence and promise. He flavour his lines with Dilliwala twang, though in scenes his repetitive expressions need to 'refresh'.
"Varma allows his characters to flourish in wit and humour. The plot is intelligent; there are laughs (sample: a tee printed - 'Jab Tak Hai Trojan'), some suspense and surprises too. Though direction is not error-free, it could've been more innovative and he often tips the balance between comedy and thriller.
"This virus won't crash your system. Watch it!"
Sanjukta Sharma of Livemint said: "The film's first half is intended to be comic, but except Varun Badola who plays a police inspector who does not know the difference between 'hawker' and 'hacker', none of the actors including lead Paul have any inventiveness as comic characters.
"The second half of the film changes tone. It goes into whodunnit territory, with a plot as ludicrous as the manoeuvres of the hackers.
"Quite evidently, it is a film made on the premise that the hacker has novelty in Bollywood. It may be, for the technologically-challenged or the IQ-challenged. Without any authentic ring to it, and with artless performances and a predictable story, the last thing I could do, while sitting through its more than two hours of running time, was suspend disbelief."