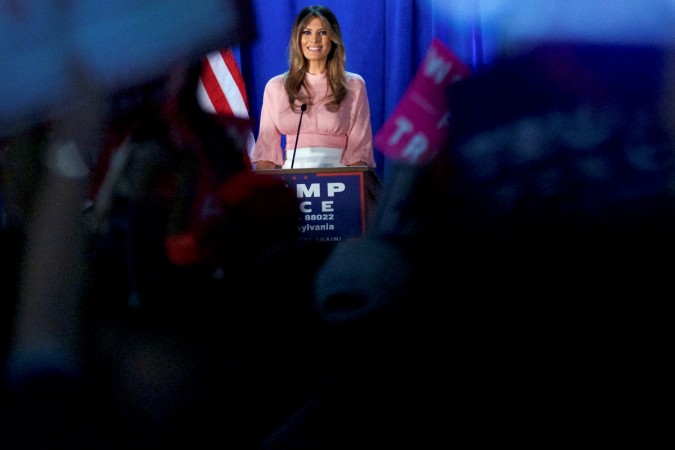 Melania Trump has stunned critics by making a speech in which she states that, as First Lady, she would combat bullying. Needless to say, her honourable campaign, may not extend to her husband, Donald Trump.
"Our culture has gotten too mean and too violent," the wife of the Republican presidential nominee told a crowd in the suburbs of Philadelphia.
"It is never OK when a 12-year-old girl or boy is mocked, bullied or attacked. It is terrible when that happens on the playground and it is unacceptable when it's done by someone with no name hiding on the internet."
The Washington Post reported that even as Melania called for civility, some supporters listening to her rare public speech were critical of the crude language her husband has used, including calling women "Miss Piggy" and "dogs."
"I am a woman, and of course it bothers me," said Victoria Granero, 60, who still plans to vote for Trump. Noting that polls show that the Republican presidential nominee is trailing with women and that his wife offered a refreshingly different approach — her words carefully considered and her talk focusing on children and kindness — Granero was puzzled about only now getting to hear from Melania Trump.
"Why didn't he send her out earlier?" said Granero, a travel consultant. "I don't think she can help him now. It's too little, too late."
The last time Melania Trump gave a speech it didn't end well. Her address at the Republican National Convention in July, was found to have lifted several lines from a Michelle Obama speech at the 2008 Democratic Convention.
The scandal led to ridicule and her speech writer accepted responsibility saying that Melania had read passages of Obama's speech to her, which she then wrote down and included in the speech.
Melania also spoke about the joys of motherhood and raising her child, Barron, with Donald Trump. And she said that should she become first lady, she'd be an advocate for women and children. Regarding children, she outlined what she says will be one of her main causes as first lady: fighting youth bullying, in person and online.
Helen Tracy from Marlton, New Jersey told NPR, of Trump's Twitter history, "He's not going after kids. He's not going after innocent people .... He's really after going after people in the Democratic Party or people who are in the media. So I think that's all fair game when you're running for office."