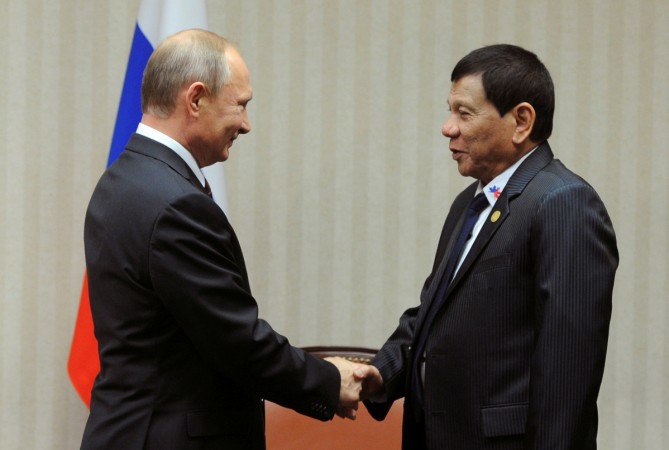 Philippines President Rodrigo Duterte has found a new platform from which to attack the West.
During a meeting with Russian President Vladimir Putin on the sidelines of the Asia-Pacific Economic Cooperation summit in Lima, Peru, Duterte unleashed.
"Of late, I see a lot of these Western nations bullying small nations," according to a transcript of their meeting released by the Presidential Communications Office in Manila.
"And not only that, they are into so much hypocrisy. They seem to start a war but are afraid to go to war. That is what's wrong with America and the other Western nations."
According to Bloomberg, since Duterte took office in June, the 71-year-old leader has repeatedly questioned his nation's alliance with the US while touting the economic benefits of friendlier ties with China.
On his four-day visit last month to China, he announced a formal "separation" from the US and said he wanted to pivot to China and Russia even as he won funding and investment pledges worth $24 billion from the Asian giant.
Putin congratulated Duterte on his May election win and said he had done a lot in a very short time to build trust and confidence between Russia and the Philippines.
Duterte responded with similar words and then chided Western powers, particularly the United States, for intervening in conflicts for their own national interest and cajoling others to side with them.
Prior to leaving for Peru, Duterte said he might follow Russia and withdraw from the International Criminal Court (ICC) because of Western criticism of his deadly war on drugs. He said if Russia and China decided to create a "new order" in the world, he would be first to join.
Duterte has spoken of his admiration for Chinese President Xi Jinping and also for the leadership of Putin. In an interview with Al Jazeera broadcast on Thursday, he described Putin as sincere, and joked that he had a "hillbilly" style.