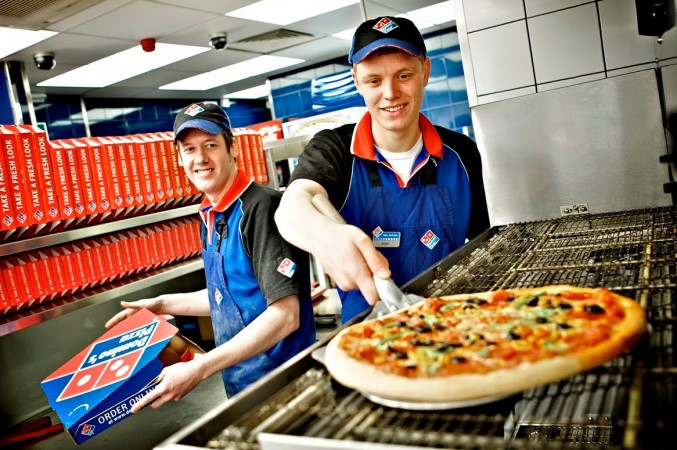 Domino's Pizza is to create 14,000 more UK jobs than previously planned as it ramps up its expansion ambitions.
The takeaway company said it had increased its long-term target for store numbers from 1,200 to 1,600 but gave no definite time period for delivery, according to Sky News. That is up from the 950 outlets Domino's is expected to have by the end of this year.
It said the total expansion of 650 new stores will now deliver 22,750 jobs. It credited a positive trading performance from new store openings and expectations that the trend will continue.
The company made the announcement alongside a trading statement which said its pre-tax profit forecast for the full calendar year remained on track.
Investors welcomed its ambitions, sending the stock to the top of the mid-cap index, up 21.12p, or 6.4%, to 351.02p.
The shares are now flat for the year, recovering from recent falls as investors offloaded Domino's during a mild October, which is typically bad for business.
Outside the UK, Domino's has also identified opportunities for a total of 400 stores, excluding its German joint venture, up from around 100 at the end of 2016.
"Our continued strong e-commerce performance and our collaboration with our dedicated franchisees, enable us to increase our UK presence significantly," Chief Executive David Wild, told the Daily Mail.
"Internationally, our progress in Switzerland and new collaborations in the Nordic region are exciting opportunities for the business."
Domino's, which is hosting a capital markets day on Thursday, said it was continuing to trade well and profit guidance for 2016 was unchanged.
Analysts are on average forecasting a pretax profit of £84.3 million ($104.8 million), up from £73.2 million made in 2015.
The firm said re-phasing of supply chain projects mean that full-year capital expenditure will be around £20 million, less than the £33 million indicated at the half year.