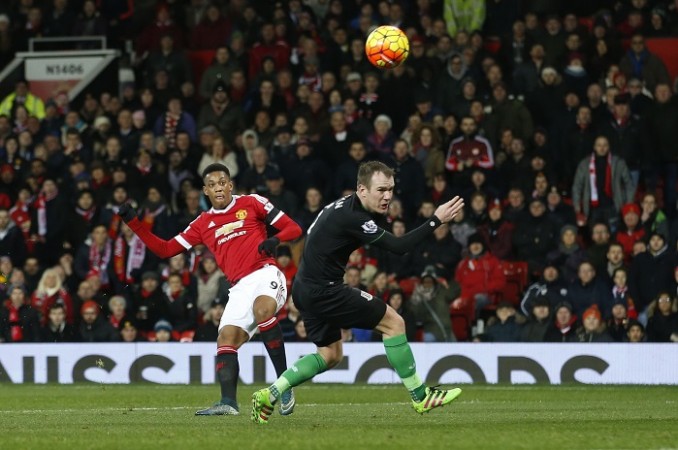 Louis Van Gaal believes the first goal was key in Manchester United's comfortable 3-0 victory over Stoke City in the English Premier League on Tuesday.
Too many times at Old Trafford this season, Manchester United have failed to score in the first half, which has then made the players, manager and fans nervous, leading to a dire performance overall.
However, against Stoke on Tuesday, Manchester United had no such problems, with Jesse Lingard and Anthony Martial scoring within the first 25 minutes to send the home team on their way to an impressive win, before Wayne Rooney added the gloss early in the second half.
"Michael Carrick said to me what a difference a first half goal makes because you play with much more confidence and you can do much more" Van Gaal was quoted as saying by the club's official website. "I believe that was the difference. We scored two goals in the first half and it was an easier game than I expected.
"I am a happy coach. When you see how we created the goals, with fantastic play building up from the back and finishing -- that's what I like. In the second half we controlled the game and did not give any chances to Stoke City which is unbelievable because Stoke have made it very difficult for a lot of teams."
Manchester United were one of those teams that Stoke gave trouble to earlier this season, but on Tuesday there really was only one team in it. After Lingard opened the scoring with a nicely-taken goal off a Cameron Borthwick-Jackson cross, Martial made it 2-0 with a wonderful finish off a quick counter-attack, which had everything Manchester United fans have been screaming for – quick passing, vision and that unerring finish.
"I always like team goals and the second one was a team goal, building up from the back and then switching the play to the other side and then a finish like that, it was fantastic," Van Gaal said. "I also liked the first goal because it was also a team goal -- a cross from Borthwick-Jackson on his birthday, an assist, and then Jesse coming in from the other side. I am very happy."
Perhaps the key to Manchester United's sudden cutting edge has been Van Gaal finally giving Juan Mata the role he prefers. Mata thrived for Chelsea playing in the No.10 role, and in this match against Stoke, the Spaniard pulled the strings brilliantly, pre-assisting in all three goals.
"When he's playing how he is playing now, then the chance is big [for him to feature centrally]," Van Gaal added. "Every player has to do it every week, even my captain has to do that because everyone has forgotten that he [Rooney] was a substitute against Stoke away.
"It's always the same with me, you have to prove it in every game and training session, and then you play. But when Mata plays like this, I cannot say to him 'go to the bench.'"