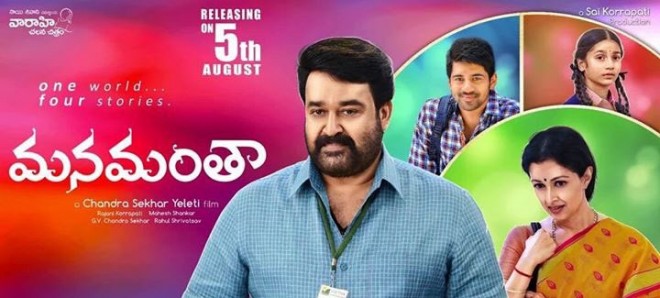 Director Chandrasekhar Yeleti's "Manamantha," which marks the comeback of Mohanlal to Tollywood, was released in theatres on Aug 5 and received rave reviews and rich ratings from the critics.
"Manamantha" is a family drama film, based on the lives of four different individuals. Sairam (Mohanlal) is an assistant manager in a supermarket and he is struggling to get a promotion in his job. Gayatri (Gautami) is a housewife, who finds happiness in the company of friends and family members. Abhiram (Viswant Duddumpadi) is an intelligent IT student with big aims. Mahita (Raina Rao) is a schoolgirl with a great humane attitude. How a single incident connects them together forms the crux of the story.
The critics say "Manamantha" has a simple story, but Chandrasekhar Yeleti makes it an interesting watch with his wonderful screenplay, which has several twists and turns to hold the attention of viewers throughout the movie. The brilliant script is the main highlight of the movie, which is high on humour and emotional quotient.
Mohanlal and Gautami have delivered superb performances, which are other highlights of the movie. Viswant Duddumpadi and Raina Rao have also done just to their roles. The performances of Naresh, Anisha Ambrose, Urvashi, SP Balasubrahmanyam, Gollapudi Maruti Rao and Vennela Kishore are also assets of the film.
Sai Korrapati, who has produced "Manamantha" under his banner Varahi Chalana Chitram, has made sure that the film has brilliant production values. Mahesh's background music, superb editing and excellent dialogues are the big attractions on the technical front, add the critics.
"Manamantha" has been rated an average of 3.25 out of 5 stars by the crtics. We bring you some critics' verdict and ratings for the film. Continue to see them in the "Manamantha" review roundup:
Manamantha is narrated with a lot of conviction and the stories merit a discussion. The only grouse is with how Gautami's journey ended. But it wouldn't be possible to discuss it here without giving away the end.
Manamantha is a slice of life film that deals with middle class values. Director Chandra Sekhar Yeleti gives an authentic narration coupled with a thrill element. Though it has four stories, director has made sure that there is no confusion in narration. Plus points of the film are terrific performances, different orientation and a heart-wrenching climax. On the flip side, narration is pretty slow. On a whole, Manamantha has all the ingredients to walk away with awards!
Splendid performances, co-incidences, a heart-touching climax win the day for 'Manamantha'. Don't expect formulaic stuff. Put up with many cliches.
Manamantha is a unique family thriller which impresses you completely. Movies like these are rare to come by and when they do, they are a treat to watch. The near perfect casting who gets into the skin of their characters is seamless and undoubtedly the greatest asset for the film. It would be really interesting to see how the commercial audience lap up a serious film like this. Finally, Manamantha is a movie which can be enjoyed thoroughly. Go for it.
This is not the usual commercial movie which we get to watch in recent times. Critics will lap up the movie. However with low commercial values, it is hard to sustain in multiplexes. This is an offbeat movie with typical brilliance of Chandrasekar Yeleti. Climax is the best part and he proves how he can make the audience glued to their seats. First half doesn't have any songs and second half has gripping screenplay.
Despite the minor flaws, "Manamantha" is one of the best made emotional dramas in the recent times in Tollywood. Director Chandrasekhar Yeleti has proved again that he is a director with a different approach.