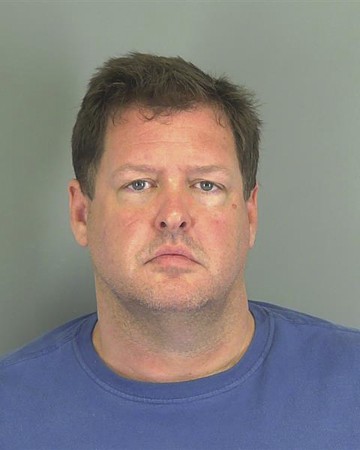 The man accused of kidnapping Kala Brown and her boyfriend Charles Carver is also responsible for another major unsolved case from 2003, according to Sheriff Chuck Wright, CBS affiliate WSPA reports.
Todd Kohlhepp admitted to murdering the four victims from the 2003 Superbike case, Wright said.
Kala Brown was found on Todd Kohlhepp's property, chained in a storage container.
Charles Carver's body was found in shallow grave on the property.
Kohlhepp was brought back to his property on Saturday, where he showed deputies 2 more graves, Wright told CBS News.
When Todd Kohlhepp was 15 and facing charges he raped a neighbor after forcing her into his home at gunpoint and tying her up, his father told court officials the only emotion the teen was capable of showing was anger, and a neighbor called him a "devil on a chain."
Fifteen years after he was released from prison for that crime, Spartanburg County deputies were brought to his property by the last known cellphone signals of two missing people. On Thursday, they found Brown chained in a container for two months. She told investigators that Kohlhepp shot and killed her boyfriend in front of her.
Late Saturday, Sheriff Chuck Wright identified the body found on the site a day earlier as her boyfriend, 32-year-old Charles Carver.
"They're obviously heartbroken," he said after talking to Carver's family. "It's terrible. I do think this helps with a little bit of closure. .. We prayed for God to show us, and He did."
Carver died of multiple gunshot wounds. An anthropologist is helping determine how long Carver was buried, said Coroner Rusty Clevenger. He declined to say how many times Carver had been shot.
Kohlhepp is charged with kidnapping Brown. Authorities say more charges are coming.
It was an abrupt, but perhaps not unexpected turn for a man who spent his 20s in prison but after his release managed to get a private pilot license, build a real estate firm with more than a dozen agents and buy nearly 100 acres of land and erect a fence around it said to have cost $80,000. On that land, dozens of officers continued to search Saturday for any additional bodies after Brown told investigators Kohlhepp claimed to have killed at least four others.
Kohlhepp, handcuffed and wearing an orange jumpsuit, could be seen on the property Saturday with deputies. He was there for less than an hour, The Greenville News reported. Wright would not confirm Kohlhepp was brought to the site.